It is safe to say that every photographer's dream is to play with their cameras around the igniting and busy streets of Japan. Nothing compares to the compelling vibe you get from the cinematic shots of the narrow nooks and alleyways that has made Japan one of the best prospects for street photography.
  With the rise and influence of social media, photographers now have their own platform where they can exhibit their work free of any limitation for everyone in the world to see.
  Over the course of time, and even more so now, you can see well-taken photographs of shopping stalls at a night market, Japanese calligraphy writings embedded in lanterns, and intersecting roads that are surrounded with lavish establishments.
  And whenever you see a bunch of them online, without a doubt in your mind, you know that it can only be in one place, a place which can only be attributed to the famous spaces of Japan.
  For a first time comer in Japan, navigating through the unfamiliar streets of this electrifying country and trying to search for the perfect spot to take your photos might be stress-inducing. Worry not. Trust that you will not get lost. Take a look at some of the best playground for street photography.
Subway
  When in Japan, a photographer can never miss out on some subway or public transport shots. One of the most frequented stations of shutterbugs in Japan is the main terminal in Tokyo Station.
  You can find it in Chiyoda's Marunouchi business district near the Imperial Palace grounds.
  Daido Moriyama, who was named the "Godfather of Japanese Street Photography", had covered the same train station in his early works. Before street photography was even valued in modern day Japan, Moriyama resisted to utilize with what was then considered as the traditional methods of photography and created his very own aesthetic instead.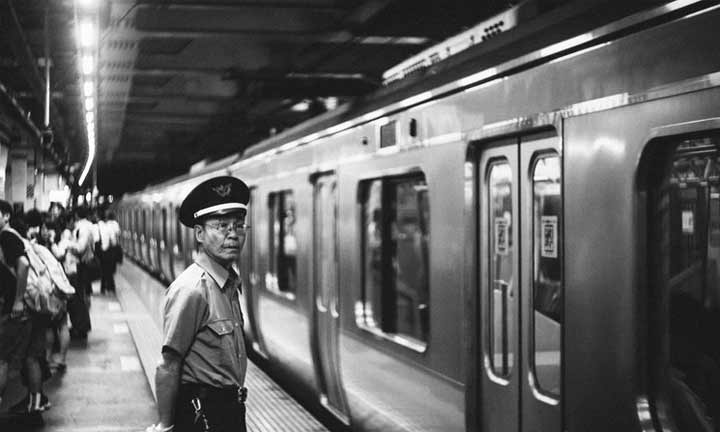 "Tokyo" (2005) by Daido Moriyama. Image courtesy of artsy.net
  Moriyama was said to have "always preferred to concentrate on the banality of Tokyo's lesser known streets." Because of his contributions, he paved the way for the popularity of the Japanese street photography, and with that every photography enthusiast in Japan can now enjoy an activity adored by many.
  The common subjects that are featured in most of the photographs in these types of places are pedestrians loitering and waiting for their train to come, or even the moving train itself. One tip that you can use for capturing a moving subject is to set a long exposure to maintain the totality of the picture without it getting blurry. If your camera is set, then shoot away.
Fashion and Entertainment Districts
  Japanese have a very distinct fashion sense. If you have come to visit the grounds of their fashion district, you can see that everyone in the area are dressed eccentric. And they manage to rock what they put on and look cool.
  In the high-end fashion streets of Ginza is where you can find a see of milling and walking fashion trend experts. If you want to capture the lush and posh side of Japan, this is just the spot. You can have a totally different experience at night when all of Ginza is lit up and all of its glory is exposed.
  It is best to walk around and shoot at night since that is the time where people are busy out and about and you can feel the atmosphere's energy. It would be like no other if you can freeze such potent life in time and be translated to your photo as well.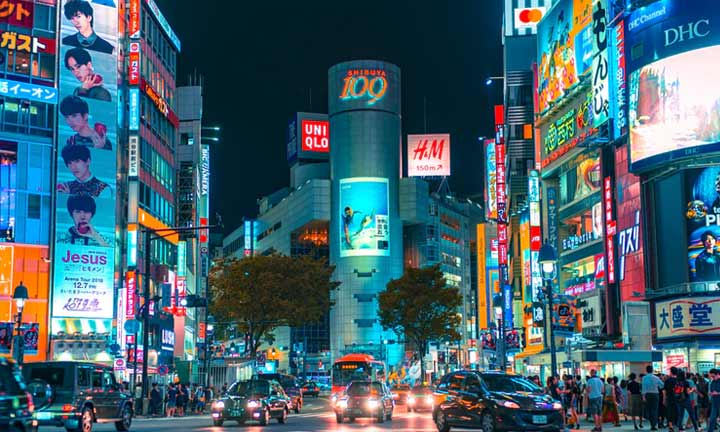 You can also go and head over to Harajuku. This is famously known for the trendiest shops, fashion boutiques, crepe stands, and much more that are just in the line of sight of in the streets. This is a walk only street and it can get extremely crowded and crammed with people. Sundays are the busiest days and the best to really experience the unique teenage culture in Japan.
  You might want to step a few inches back to set a wide angle if you want to capture a landscape shot. You can always incorporate the standard rule of thirds as well just so you can be guided and you know where your subject is at. If you think and trust your artistic eye can do the trick, do whatever floats your boat. Just be careful that you don't stray your viewer or audience away from the main focus. Wide angle shots tends to be a little too distracting if you don't know what your mainpoint is and if there's just too much action on going in one frame.
Night Markets and Alleyways
  You can trust that night market shots will give you the most humane and mundane subjects in comparison to any other places. The earthy tones and hues that you can get out of this place is unlike any other. If we are just talking about just around Tokyo, you can visit the night markets in Asakusa, Shinjuku, and Shibuya, just to name a few. It might sound a little cliche to say that this is is a catalyst city which bring together the best of both worlds.
  Way back when, Asakusa was considered to be Tokyo's most famous district where Japan's past still lingers and survived. In the past centuries, it was believed that Asakusa was Tokyo's leading entertainment district where people continously frequent to enjoy a leisurely time. Now, it has become an attraction for tourists who wanted to see a glimpse of what Tokyo looked like before when the skyscrapers, lights, and the booming business of industrialization were far out of touch.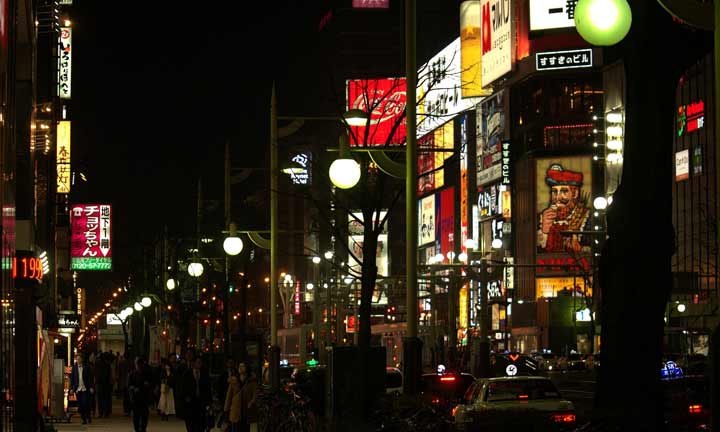 When you think of Tokyo, you can imagine high-rise skyscrapers, vibrant and intense neon lights, busy metro stations, and wide streets and black and white painted crosswalks. But what others don't see in the public media are the hidden alleyways that criss-cross throughout Tokyo. In these spaces, you can find little blocks of alleys that take on a completely different character.
  Some of the night markets are accessed in small alleyways. The narrow alleys are cramped, dark, and dingy. As you make your way, you can observe obscure and shanty-styled bars and restaurants that are squeezed-tightly designed and most of which are only one or two-stories at height. Some are so small they can only accommodate five or so customers at a time.
  The old and rejected crumbling buildings that are just sitting and withering away in the corner and the dimly lit alleys gives you a very troubled and brooding impression, but they also manage to maintain a personality and character that takes you back to the old time in Japan when everything was healing from the post war. The odor of every food, the smoke filling the air from yakitori grilling, the lights from the old plastic signs, and more all add to their very own ambiance and nature.
  You can't miss out and not wander around the mysterious and dubious walkways and alleys with your camera in hand walking through Golden Gai and Memory Lane. It's one of the many hidden gems of Tokyo that are safely tucked in an unfamiliar area where not everyone knows or would bother to even go.
  The most common misconception about street photography is that it all comprises of just wide angle shots with wandering speck of people as subjects. However, that is too unrealistic to be a fact and for you to believe. With street photography, you can capture the essence of the environment even just by taking a candid portrait of a person who is waiting for the traffic lights to turn green, or someone walking and going about their day with a suitcase in hand who might be on their way towork, a customer who is buying a fish at a night market, or even just an unsuspecting pedestrian who you happen to shoot miraculously.
  Everyone and everything in a place tells a story. It's just a matter of perspective and the photography methods and composition that you associate in order to seize that perfect shot that is worth to be relieved all over again.
About J-snap
     If you are looking for a like-minded group who you want to join your quest to capture what Japan has to offer, you don't have to stress about that anymore. Just visit https://www.j-snap.com/en.
  J-snap build connections among travelers from all over the world and Japanese photographers in Japan. J-Snap wants people from all over the world who travel to Japan to love Japan even more and to make their trip as memorable as possible so that they will go back home bringing a lot of memories that they won't forget. J-snap offers services such as for-hire Japanese photographers. They will accompany you on your wonderful trip and they will be assigned to take pictures of you that will last a lifetime.