[Notice of temporary suspension of reservation acceptance]

In J-Snap,
The health of our users, photographers and their families is a top priority.

Regarding infectious diseases including the new coronavirus (COVID-19),
We are working to ensure that you can use it with peace of mind,
We will refrain from accepting reservations due to the current infection status in Japan.
The timing of resumption is undecided. You will be notified on the homepage in advance when you resume accepting reservations.

We appreciate your understanding and cooperation.
I pray for the happiness of those who have died from the infection around the world and for the early recovery and ending of the infection as soon as possible.

2020.4.7 J-Snap Management Secretariat
---
Build the connections between foreign travelers in Japan and Japanese Photographers.

J-Snap wants people from all over the world who travel to Japan to love Japan more and we want them to go home with a lot of memories. To that end, a Japanese photographer will accompany you for a short time on a wonderful trip and will take pictures of wonderful memories.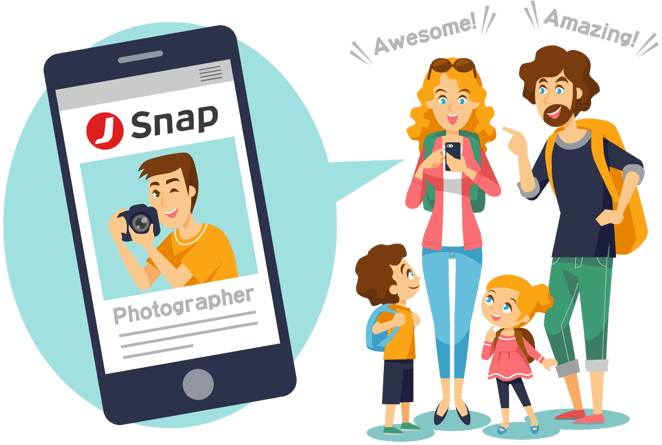 We are photographers, so be enthusiastic and enjoy your trip in Japan! Let us capture your natural smile and scenes in the picture! Let's start a wonderful trip in Japan!
---
---

Search a Photographer
Provide us your details such as the budget, the shooting spots and the date. Find the photographer only for you.

Simple Meeting
Please share your wish to the photographer.You can fix the meeting place on the shooting day and your concept of the photo.

The Day of Shooting
It's time to meet up and shoot with the photographer. Come on. Let's enjoy a wonderful trip!

How to Receive the Image Data
We will deliver wonderful photo data during the tour.
Please download it from My Page.
---
---