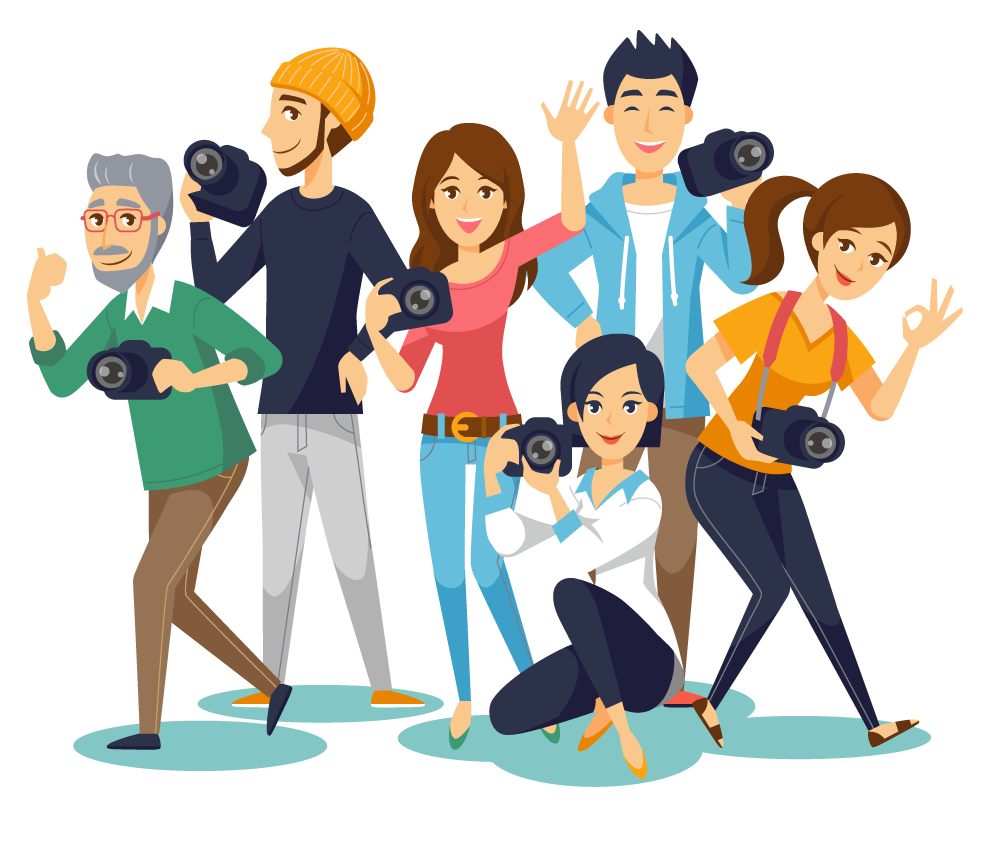 Introduce photographers to the people from all over the world who travel in Japan.

J-Snap wants people from all over the world who travel in Japan to love Japan more and let them go home with a lot of memories. To that end, a photographer will accompany with you and shoot and provide beautiful pictures.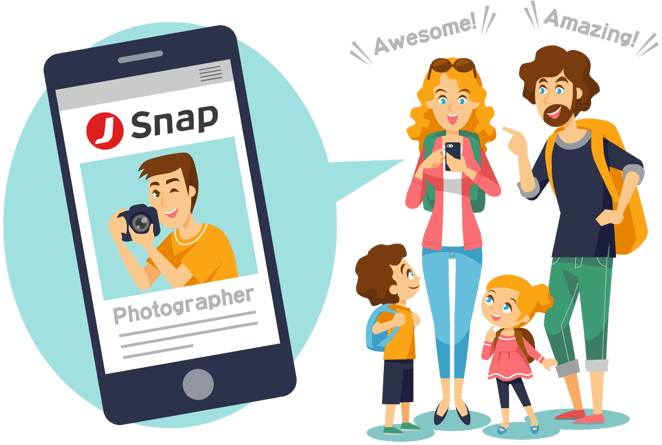 Let the customeres be enthusiastic about sightseeing!Let's shoot the beautiful pictures with the natural smiles and the moment! Now! Let's make them to love Japan more!
1

You can use your time effectively.
Set the schedule in the hourly units.It is easy to to balance both work and private.
2

You can communicate with foreigners.
While studying foreign languages, we will support those who want to interact with foreigners!Let's aim at skill improvement while actually interacting with customers in your own communication way!
3

Setting of shooting fee is free!
J-Snap does not matter professional or amateur. You can set the price freely according to your skill and style. (※1)
(※1)There is a lower limit for setting price.
After selection, you will be allow to register as a photographer.
Please enter your profile, achievements, and available schedule.
The system will make reservations from customers, so please check time to time.
※We will notify you by e-mail message when you get a reservation.
Customer reservation
The customers will check your profile and make a reservation on the desired date and time.
Detailed meeting about shooting location and so on
Use J-Snap's message function to confirm the shooting location, time, and transportation costs with the customer.
When the customers make a reservation, they will create an interview sheet regarding shooting. Please provide your optimal proposal based on that information.
Customer payment
A payment URL will be issued based on the amount determined by you and the customer, such as transportation fee and the other expenses. Inform the URL to the customer and let them complete the payment with card.
Photo shooting
You will shoot at the requested shooting location and date and time.Communication is required, but please devise various ways to take photos that the customer wish.
Delivery / Payment
Please deliver the photo data within one week after shooting.
Please note that if the item is not delivered, it will not be counted as a result and payment will not be made.
We are expecting such a person!
I love photos

I love to mingle with people

I want to study a foreign language

I want to introduce the charm of Japan

I love to make people smile

I want to work which related with photos

I want to improve my career
1

Application
Enter and send the required information from the application form. Please attach some of your portfolios for us to check the quality of your work. Based on the data you've sent, one of our person in charge will contact you for further notice.
2

Examination
We will examine your profile.
※If we have questions, we may contact you.
3

Profile registration
If you pass our thorough examination and verification we will approve your application. You can add/update your information such as profile and mode of payment.
FAQ
Of course you can register.
Proper Communication can be learn.
Of course you can register.
I want to challenge but I'm worried ...
Questions and consultations are accepted.
Please refer to frequently asked questions.