Best Places to Propose in Japan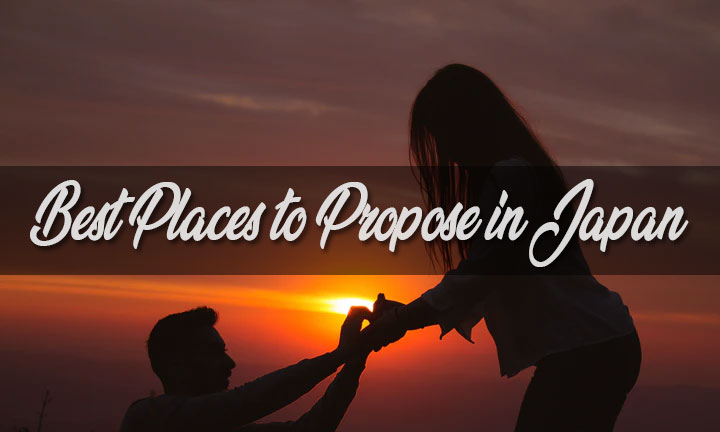 Why Japan is the Best Place to Propose
  For many years, Japan has been a hot spot for both foreign and local tourists. These tourists have different agenda when visiting some parts of the country, such as going on adventures, beholding the beauty of Japan's breathtaking sceneries, or indulging in the delectable food that the Japanese have to offer. Some of the tourists, however, decide to make their trip more memorable by proposing to their significant other in Japan.
  Visiting Japan feels like taking a glimpse of the country's beautiful past. Despite keeping up with modernization, Japanese citizens have successfully preserved their nature and ancient infrastructures; so when you plan for your proposal, you can choose from a variety of environments to do it in. You can do it in a nature park or in front of tall buildings. It's your call.
  Japan also has four seasons, so you can also choose the vibe for your proposal. You can propose to your significant other during the summer where places are bright and sunny or during the spring with the cherry blossom trees in the background. You can also choose to propose during the autumn where colorful leaves fill the surroundings or during winter where everything is covered in snow.
Best Places to Propose in Japan
  Among all the picturesque places in Japan, here are some of the best places where you can propose to your significant other.
Arashiyama Bamboo Grove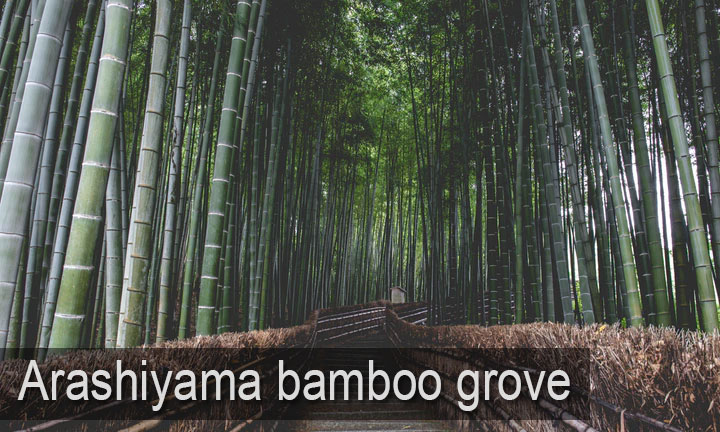 Starting a new chapter in a couple's life is much better when you're surrounded by plants that symbolize important values in life. Bamboo symbolizes longevity, strength, and resilience, so it is a good idea to propose in Arashiyama Bamboo Grove.
  Here are some things that you need to know before you go to Arashiyama Bamboo Grove to do your proposal:
  Arashiyama Bamboo Grove is located at the base of "Storm Mountains" in the Arashiyama district, northwest of Kyoto. To go to the Arashiyama district, take the JR San-in or Sagano lines from Kyoto Station to Saga-Arashiyama Station. The Arashiyama Bamboo Grove is just a 10-minute walk from the Saga-Arashiyama station.
  Arashiyama Bamboo Grove is open for 24 hours and has no admission fee. During peak hours, however, the place is packed with tourists and it would no longer be a great sight for your proposal. To avoid the crowd, it is advisable to visit the bamboo grove early in the morning or at sunset.
  Still not convinced to propose at Arashiyama Bamboo Grove? Imagine this. You're walking with your significant other on a long pathway surrounded by towering stalks of bamboo. The serenity of the place and the mild rustling of the bamboo leaves add a romantic touch to the atmosphere. While your significant other is distracted by the view, you get down on one knee, ask him or her to turn around, and then pop the question. Isn't it romantic?
Keage Incline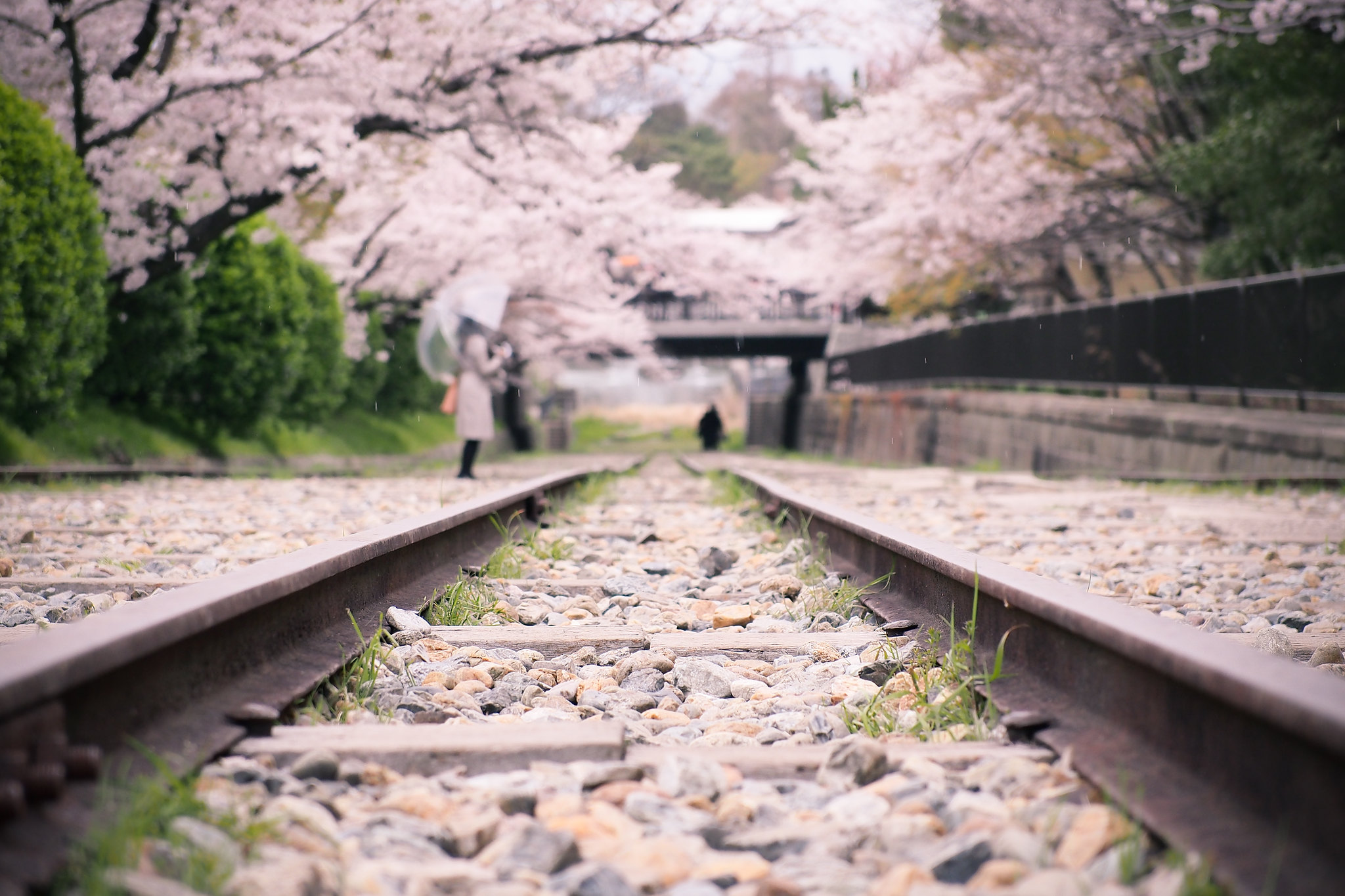 Do you dream of proposing in a place surrounded by Japan's famous sakura or cherry blossom trees? Then Keage Incline is the perfect place for you!
  Keage Incline in Sakyo-ku, Kyoto is a former cargo railway that links Lake Biwa Canal and Kamo River. After the railway stopped its operations, Keage Incline has been converted into a public pedestrian trail where people visit to take leisurely strolls.
  In spring, people flock to Keage Incline to view the approximately 90 blooming cherry blossom trees that stand gracefully along the railway. These trees begin to bloom in late March and they are at their peak in early April. If you're planning to propose to your partner here, It's best to avoid visiting the railway during the peak hours of the day. Despite the romantic ambiance of the place, proposing to your partner in the middle of a heavy crowd would not be ideal. Unless, of course, it's what your significant other would have wanted.
  Determined to propose in Keage Incline? You have to know how to get there. To get to the Keage Incline, take the Tozai Line from Kyoto Station to Keage Subway Station. The approximate travel time is about 20 minutes. From Keage Subway Station, you need to walk for 3 minutes to reach Keage Incline.
  It is important to note that since Keage Incline is a former railway, the ground is mostly covered in gravel. Make sure that you wear comfortable walking shoes to avoid any inconvenience.
Tokyo Skytree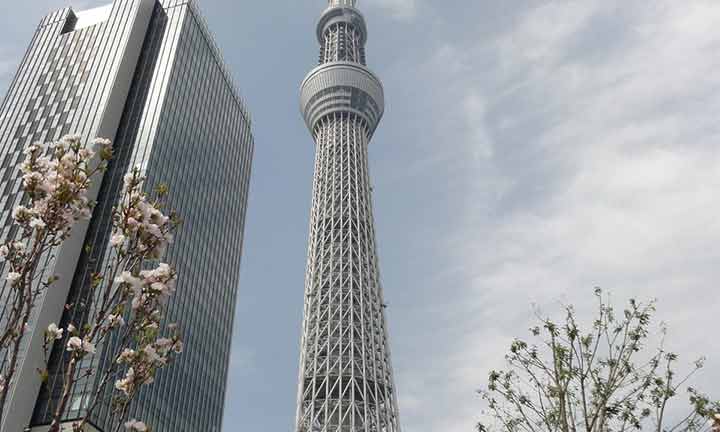 Do you prefer to propose in a place where you can feel like you're at the top of the world? Look no further because Tokyo Skytree is the place to be!
  Tokyo Skytree is a television broadcasting tower that stands out among all the buildings in Tokyo. Towering at 634-meters high, Tokyo Skytree was recognized by Guinness World Records as the tallest tower in the world on November 17, 2011. This recognition, however, is not the only thing that makes Tokyo Skytree special. Its height also has a special meaning behind it. When you read "634" in old Japanese numbers, it is pronounced as "mu-sa-shi". Hence, 634 reminds the Japanese people of the former Musashi province that modern Tokyo was once part of. Also, when you look at the view from Tokyo Skytree's observation decks, you can see the landscape of the old Mushashi province.
  Do you like the idea of proposing to your partner with a panoramic view of Tokyo in the background? If yes, then keep on reading.
  Tokyo Skytree has two observation decks that offer a magnificent view of Tokyo, making the tower a popular dating destination for couples.
  The first observation deck is called Tembo Deck. This deck stands 350 meters high above the ground and is divided into three levels or three floors.
  Floor 340, the lowest of the three floors of Tembo Deck, has a cafe where you can order drinks, light snacks, and sweets. This floor also has some glass panels on the floor that gives you a view of the base of the tower. These glass panels, however, are not for the weak of heart. Only those who are brave enough can stand there.
  Do you want to do your marriage proposal in a fancy restaurant? In Floor 345 of Tembo Deck, you can pop the question after you indulge in the French-Japanese fusion cuisine that Musashi Sky Restaurant has to offer. Moreover, it would be better if someone, preferably a friend, would be there to capture the special moment! On the other hand, if you think pictures are not enough souvenirs, Floor 345 also has a souvenir shop where you can buy a souvenir to commemorate your visit.
  Floor 350 of Tembo Deck has a broad, 5-meter-high glass that offers the visitors a 360-degree panoramic view of Tokyo. You can also catch your partner by surprise by popping the question after she basks in the magnificent view. Again, don't forget to ask someone to capture the special moment.
  The second observation deck in Tokyo Skytree is the Tembo Galleria which has two floors: Floor 445 and Floor 450. To get to Tembo Galleria Floor 445, you need to take the Transparent Tembo Shuttle from Tembo Deck Floor 350.
  In Tembo Galleria Floor 445, you can see the entrance of the glass tube that you need to walk in to get to Tembo Galleria Floor 450. Earning the name as the world's highest skywalk, this glass tube gives you the feeling of walking in the sky while you bask in the impressive sight of Tokyo. If you and your partner are brave enough to take the glass tube, why don't you propose to her there? The thrill would definitely add a hint of thrill to the romantic atmosphere of the proposal.
  Sorakara Point, the highest point of the observation deck, is located in Floor 450. On this floor, you will definitely feel like you're at the top of the world because you'll be standing 451.2 meters high above the ground. Restrooms are also conveniently located near the entrance of Floor 450 for those who need to freshen up after a thrilling walk in the glass tube.
  Do you want to do your proposal in this modern, thrilling, and out-of-this-world tower? Here are some things that you need to know:
  There are various ways to go to Tokyo Skytree. You can ride the Skytree Shuttle that departs from Tokyo Station, Ueno-Asakusa Area, Haneda Airport, Tokyo Disney Resort®, Odaiba area, Wakoshi Station, Asakadai Station, and Shiki Station (on the Tobu Tojo Line). Tokyo Skytree is also accessible by train through various train stations. Click here for more details about the different ways to reach Tokyo Skytree.
  The entrance of Tokyo Skytree is located on the 4th floor of Tokyo Skytree Town. The tower is open from 8:00 A.M. to 10:00 P.M. but you can only enter the tower until 9:00 P.M.
  The place where you do your proposal adds a special touch to the special moment. Since Japan has a lot to offer when it comes to historical sites, modern infrastructures, or nature parks, you'll never run out of venue options. All you have to do is plan ahead of time and organize everything before you pop the question. Also, always remember to immortalize the moment by capturing it in a photo.