2020/04/03
AMAZING PLACES TO VISIT IN JAPAN SERIES: TOHOKU REGION SPECIAL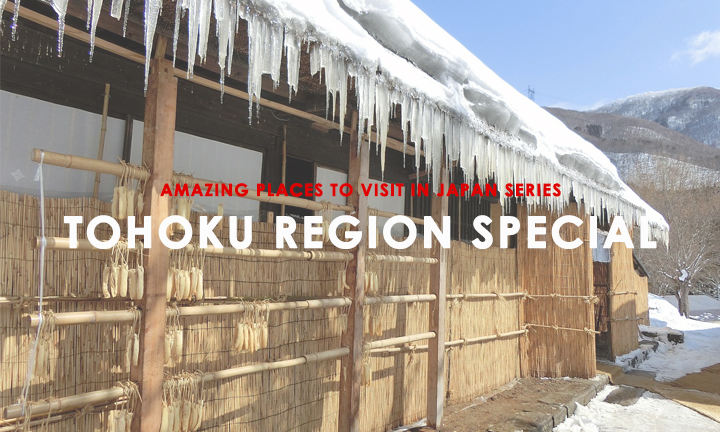 In this Amazing Places to Visit in Japan Series, we will explore the array of beautiful places that Japan has to offer. In this article, let's discover together the underrated travel havens that you should look forward to when you visit the Tohoku region of Japan.
  Japan undoubtedly has a plethora of beautiful sites that should be on everyone's travel bucket list. But since Japan is bigger than it seems, we have to consider Japan based on its 8 regions (Hokkaido, Tohoku, Kanto, Chubu, Kansai, Chugoku, Shikoku, Kyushu-Okinawa.
EXPLORE AND UNVEIL THE UNDERRATED GEMS OF TOHOKU REGION
  Without a doubt, Japan is on every traveler's bucket list. Traditional spots of Japan like Tokyo and Osaka continue to receive a swell of foreign tourists. But unfortunately, not all regions in Japan are getting the same attention as Kansai, Kanto, or Hokkaido.
  One of the most underrated destinations in the Tohoku region. Believe us, the Tohoku region is one of the most fulfilling destinations. You can enjoy the different tourist spots with fewer crowds. Even tour companies offer unique experiences to their clients. They can let you visit a traditional sake brewery or a theme-park style factory of cast ironware. You also have an opportunity to participate in a marathon race or go fishing.
  According to Japan Times in 2017, the yearly number of overnight foreign guests in Tohoku has exceeded 1 million. Certainly an encouraging sign for the region. That is why in this article we will discover the top destination in the Tohoku region.
TOP TRAVEL DESTINATIONS IN TOHOKU REGION OF JAPAN
  Here are some of the best places to visit in Japan especially in the gateways of the Tohoku region.
MIYAGI
  Miyagi is in the southern part of the Tohoku region. This region is home to the region's largest city – Sendai City. This city offers many beautiful sites including nature parks, ancient temples, regional cuisines, and seasonal festivities.
SENDAI CITY'S TANABATA FESTIVAL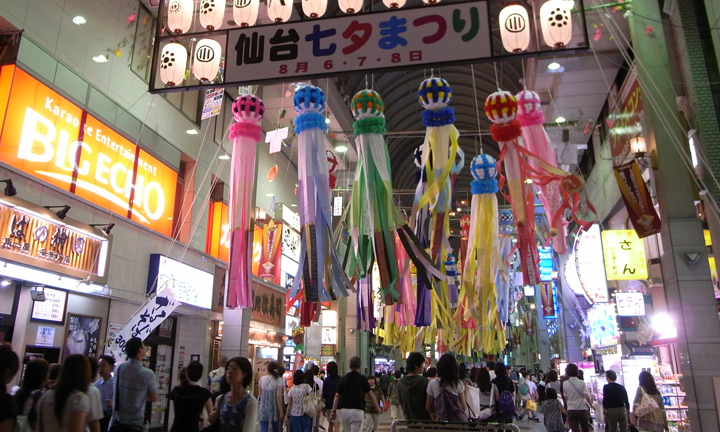 If you miss the actual festival, don't worry because you can visit the Tanabata Museum. You can just make your own miniature Tanabata Lantern using washi papers. According to the legend, it can make seven of your wishes come true. Aside from that, you can view many intricate Tanabata decorations used in the city's main festival over the years.
  One of the most anticipated events in Sendai is the Tanabata Festival. Tanabata Festival is a stars festival. It lets you write your wishes and dreams on colorful strips of paper called tanzaku. You can then hang them on the branches of decorative bamboo trees. Every seventh day of the seventh month every year, this festival is celebrated. During this time, you can witness a very festive aura along with public spaces. Arcade streets, shopping areas, and train stations are oozing with vibrant decorations and tanzaku.
OKAMA CRATER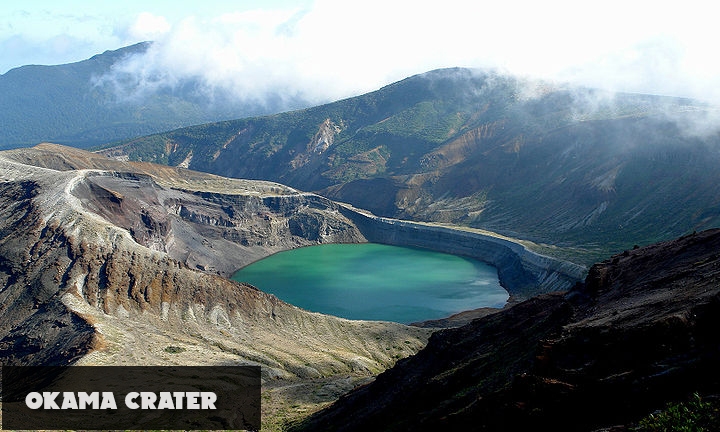 The Okama Crater is a lovely emerald green crater lake of a dormant volcano. This circular crater lake looks like a traditional iron pot. That is the reason why it is named as Okama, from the word "kama". It gives an astounding view of the surrounding Mt. Zao that sits on the border between Yamagata and Miyagi prefectures. The most interesting part? This lake changes its color up to 5 varieties depending on the light intensity that hits its surface.
  It has a visitor center, souvenir shop, and a restaurant where you can take wonderful photos. You can reach Okama Crater via car or taxi for a very affordable price.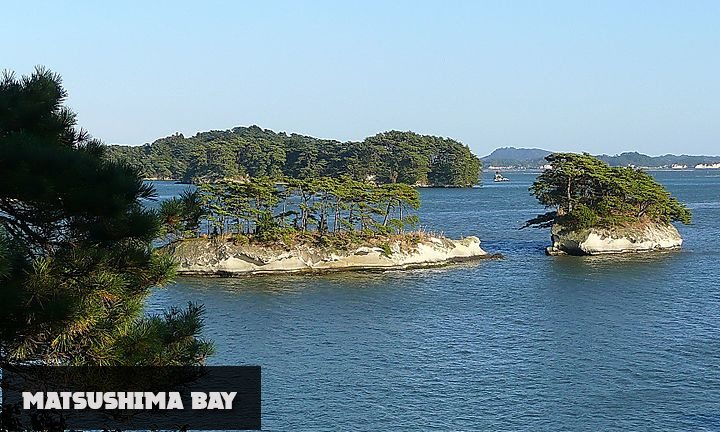 Matsushima Bay is a scenic viewpoint to the picturesque view of more than 260 islands (shima) covered with pines (matsu). You can easily reach this scenic attraction less than an hour from Sendai. And of course, the best way to explore the beauty of this amazing place in Japan is by sightseeing boats.
  You must try the high-quality local seafood around Matsushima Bay. Most importantly, their oysters. The quality and production of oysters in the Matsushima Bay area have increased over the years. This is mainly because of the system of oyster aquaculture. In connection to that, you can head straight to the Matsushima Fish Market. You'll surely enjoy a lot of all-you-can-eat oyster shacks.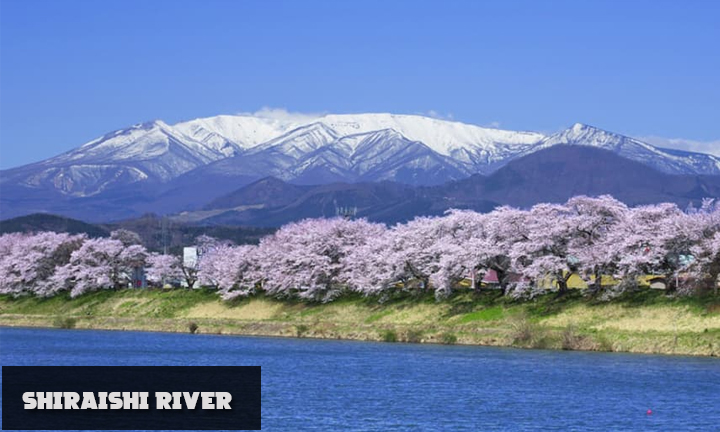 Visiting the Shiraishi River is perfect during the cherry blossom season. Imagine if you can take a riverboat down the river with the Zao Mountain Ranges as the perfect background. You will surely be in awe to see approximately 1, 200 different kinds of sakura trees. You can also join the annual Ogawara Sakura Festival held in Miyagi's Shiraishi River. During winter, you can witness a captivating view of the snow-capped Zao mountains.
  Aomori is the northernmost prefecture on the main Japanese island of Honshu. It is certainly a photographer's dream. Diverse and beautiful landscapes surround this region. Furthermore, you can see a variety of mountain and hiking paths, nature parks, museums, and more.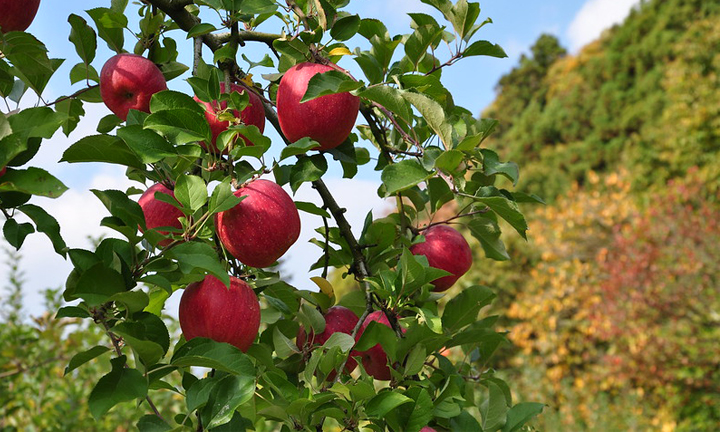 Experience your first apple-picking adventure in Hirosaki Apple Park in Aomori. This place is the best-known place to grow apples and has more than 1,300 apple trees and 65 apple varieties. This park offers various interactive facilities for all tourists. One of the things you can enjoy is the apple production experience. This is where you can sort and bag the apples, prune the leaves, as well as freely explore the garden. After that, you can head straight to the Apple House and buy from over 1250 apple products. You can select from products ranging from sweets to crafts like apple curry and apple soft serve ice cream.
HIROSAKI CASTLE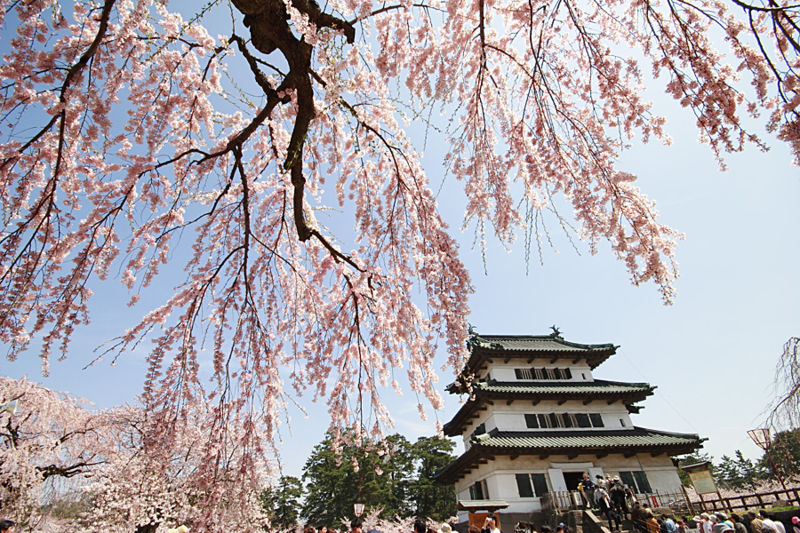 Every April, almost 2 million tourists flock the Hirosaki castle for cherry blossoms festival. The castle has over 2600 sakura trees planted around it. You will surely enjoy a fantastic view of cherry blossoms as well as light illuminations in the night.
  Right after a wonderful experience at Hirosaki Apple Park, you can go to Hirosaki Castle. It is a top cherry blossom spot in Japan. This castle structure in the grounds of the Hirosaki Park, built in 1611. It is the only remaining castle tower built in the Edo period in the whole Tohoku area.
NEBUTA MATSURI FESTIVAL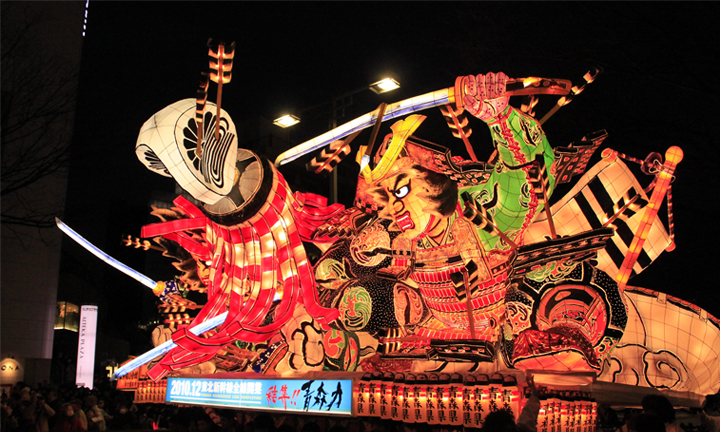 For anyone who wants to experience a solid Japaneson. During this time, you can witness a very lively and colorful giant lanterns made from paper and bamboo. You can witness a lot of dancing and street parades to the beat of taiko instruments. Floats called "nebuta" carry around massive lanterns. These lanterns are modeled after historical and mythological Japanese characters.
HAKKODA MOUNTAINS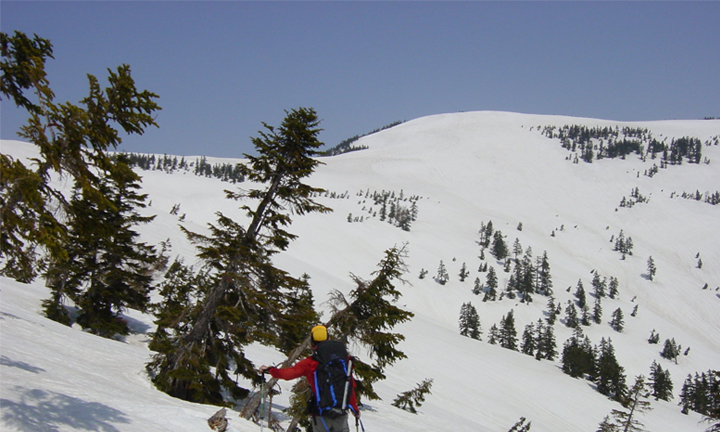 The mountains of Hakkoda are known for their famous "snow monsters" attraction. These are the huge, frost-covered fir trees that form in the snowy landscape of Hakkoda during winters. You can reach this amazing place in Japan via Hakkoda Ropeway which runs an unobstructed view of the snow monsters. Aside from sightseeing, adrenaline enthusiasts can opt to try skiing or a guided snow-hiking tour around the area.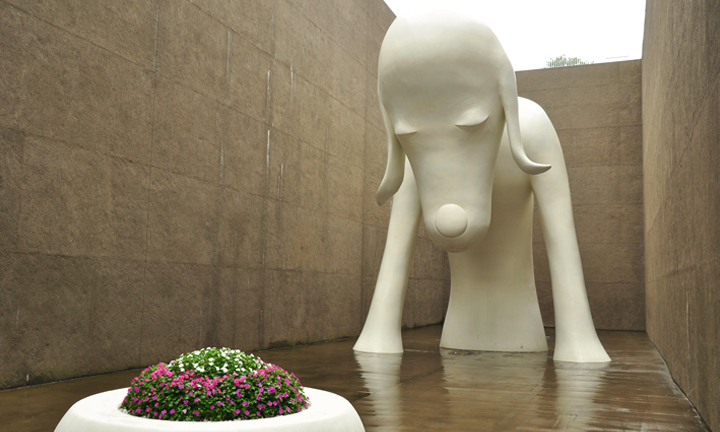 The Aomori Museum of Art is built nearby a widely respected excavation site of the Sannai Maruyama ruins. This modern art museum promotes the arts of the Tohoku region. Instead of the usual display, the display spaces in this museum are dug into the ground. It almost depicts an archaeological excavation site. The museum building is also painted white like tents that stretched over the trenches. Truly an architectural delight.
  The permanent exhibition showcases the works of famous artists like Munakata Shiko, Nara Yoshitomo and Toru Narita. The giant dog statue by Nara is the most popular piece in Aomori Museum. It clearly represents Japanese modern art. Moreover, you can witness large paintings by Marc Chagall. These paintings were used as backdrops for the ballet performance "Aleko".
FUKUSHIMA
  Fukushima has long moved on from the unfortunate disasters from eight years ago. It is now raving a massive comeback in terms of its tourism. According to CNN Travel, Fukushima is an off-the-beaten-track alternative if you want to enjoy Japan without the heavy crowds.
DAIICHI TADAMI BRIDGE VIEW SPOT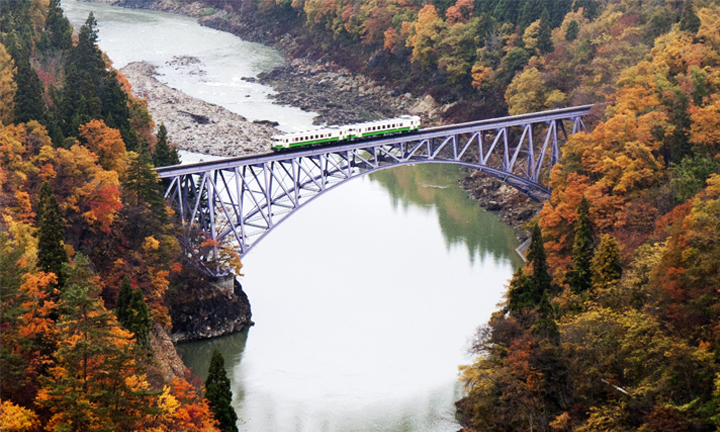 People all around the world look forward to this picturesque area of the arch bridge over Tadami River. Whether you go there during summer days, autumn or even during winter, the view never fails to mesmerize. The Tadami River Bridge Viewpoint is also the first iron bridge in Tadami. It stretches up to 174 meters wide spanning across the Tadamigawa River. A detailed guide to reaching the Tadami River Bridge Viewpoint can be read here.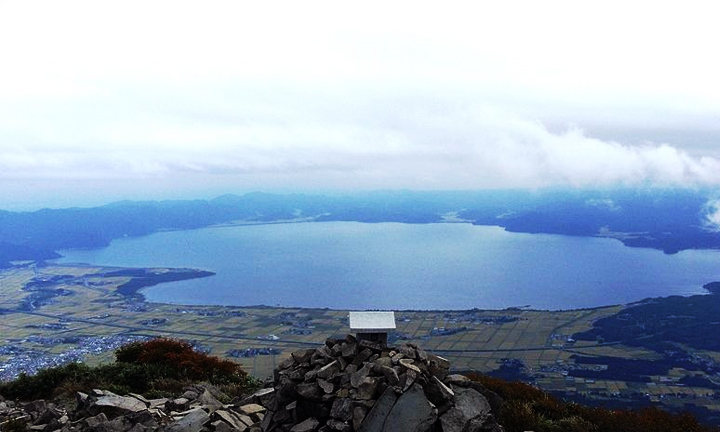 Another amazing place to visit in Japan especially during winter is Fukushima's Lake Inawashiro. You'll be treated to awesome and natural "Heavenly Mirror Lake" and enjoy the view, no matter what the season is. It is known to be Japan's fourth-largest lake. Also, it is known for its clear lake in the center that beautifully reflects the sky. Aside from sightseeing, popular activities here include paragliding and canoeing as well as lure fishing.
  In addition to that, you can reach the Bandai Plateau 10 kilometers north of Lake Inawashiro where you'll find over 25 lakes. Years ago after the eruption of Mt. Bandai these lakes were created.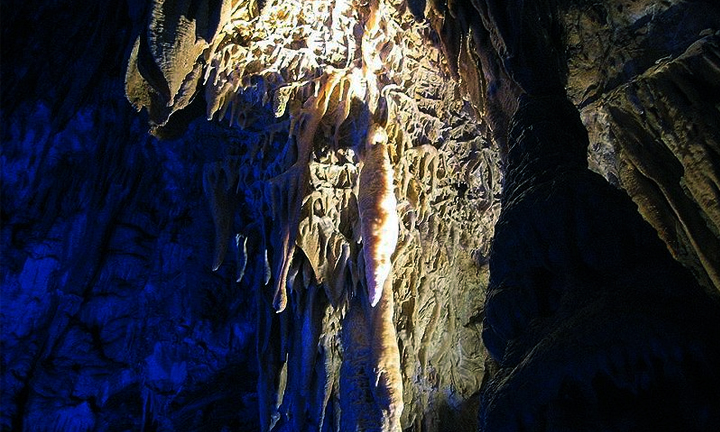 Though only the first 600 meters of the cave is open to the public by paved walkways and staircases, more adventurous tourists can take the optional 120-meter long exploration course. If you want to explore more, here are the 10 things to do when you visit the Abukuma-Do Cave.
  Also in our list of amazing places to visit in Japan is this awe-inspiring 3000 meters long limestone cave in Fukushima. The Abukuma-do Cave was discovered in 1969. The cave contains countless stalactites and stalagmites and has been popular with many tourists including the rare two-meter high stalagmite.
IGLOO AT YOKOTE KAMAKURA FESTIVAL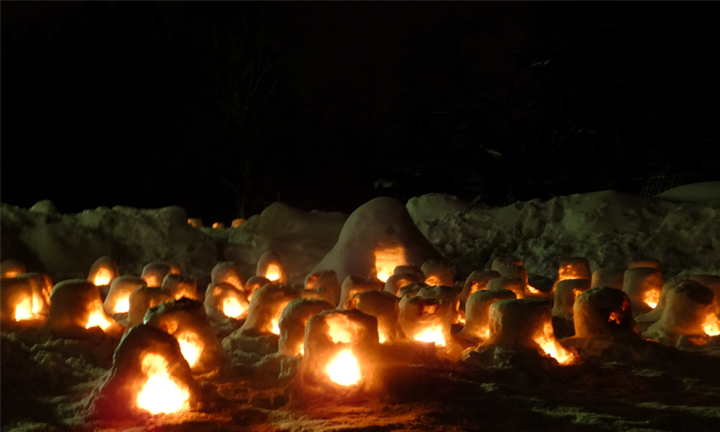 There's an amazing winter event that you shouldn't miss in Yokote City, Fukushima. Every February, the town boasts clusters of snow igloos or "kamakura" decorated with tiny candles. Inside the large igloos, you can find snow altars where children invite passers-by to join them and pray to God of Water along with a glass of warm rice wine and rice cake.
  Surely, you'll get to enjoy a leisurely stroll around the grounds until you reach the Yokote Castle where you can witness the candle-lit city from the castle's observation deck.
KAKUNODATE SAMURAI HOUSES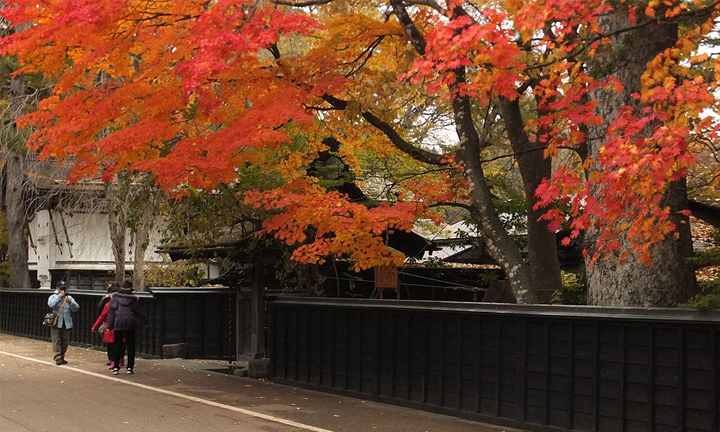 You can visit a street lined with well-preserved historical buildings in Kakunodate. It reflects the pre-modern social structure of Japan. This is the Kakunodate Samurai Houses. This samurai district was home to around 80 samurai families. Now, you can visit some of the best examples of samurai architecture in the six samurai houses that are open to the public. One of them is the Aoyagi house that houses early Meiji history with its fascinating collections. Another one is the Ishiguro houses where you can see samurai clothes and armors on display.
  Iwate in Fukushima is a large prefecture with a scenic coast. It used to be the political and cultural center of the Tohoku region.
JODOGAHAMA BEACH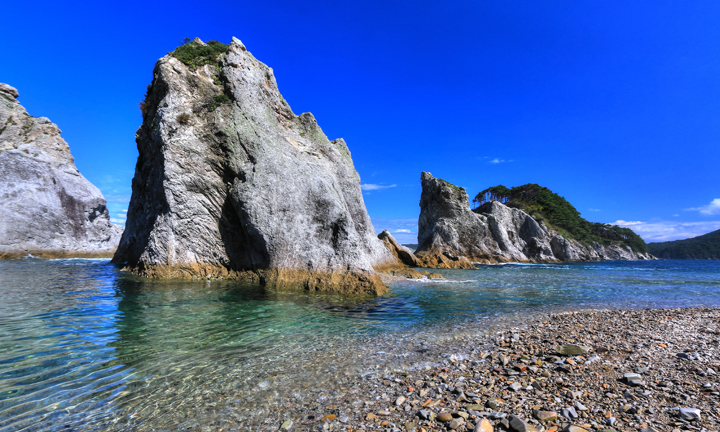 Jodogahama Beach is listed in Japan's 100 best beaches and 100 Best Beaches for Swimming for a good reason. With its clean water, sharp & white rocks as well as the gentle waves in the deep blue sea, this beach is a must summer-destination. It consists of a series of rock formations along the coast of Miyako Bay.
  You can always use boat rental services and rest houses so explore the beauty of this pure land.
HATSUKOMA HONTEN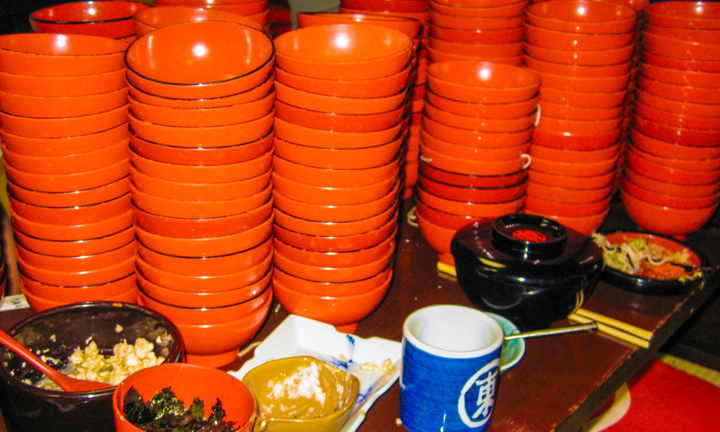 Food enthusiasts frequent this place for their authentic Wanko Soba (literally bowl noodles) Iwate's specialty. Adding a twist to the usual routine, you can even join an all-you-can-eat soba challenge. The record to beat? 559 bowls. On average, men usually finish around 80 bowls while women can eat around 60 bowls.
MT. IWATE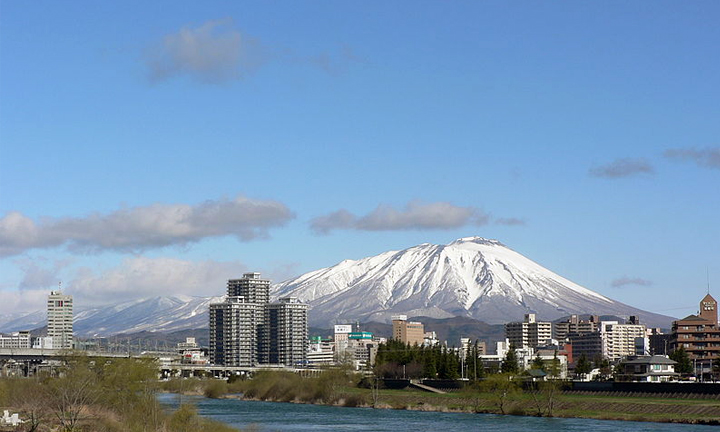 Mount Iwate is the highest mountain in Iwate. Additionally, it is considered as one of the Most Beautiful Mountains in Japan. The gentle-sloping side of this mountain resembles Mt. Fuji. Hence, it is called as Nambu Katafuji. Many tourists, as well as locals, like to hike and climb Mt. Iwate for adventure and sightseeing.
IWATE SNOW FESTIVAL
  For a very unique experience, you can savor a delicious meal inside a snow igloo during the prominent Iwate Snow Festival. Every February, you can witness this festival in the Iwate Kogen Snow Park. You can see various displays of snow sculptures, snow slides, amazing food, and entertaining performances.
AKITA
  Far from the bustling life of Japan's cities, Akita prefecture in Tohoku is a simple escape. Akita is famous for its rice farms as well as for its sake breweries.
RICE PADDY ART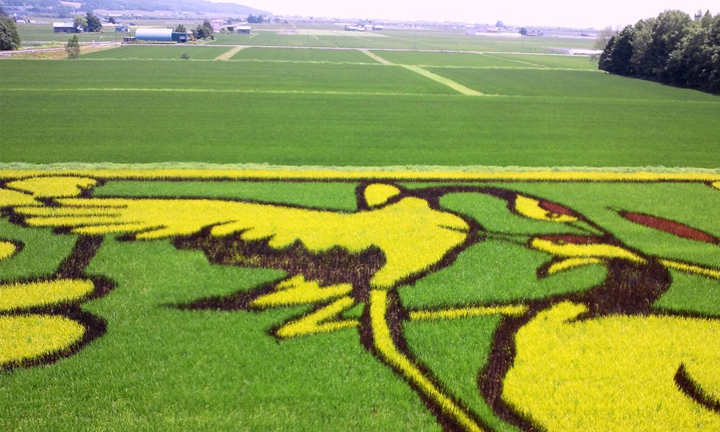 Rice paddy art popularly known as Tanbo Art in Akita is a tradition that still lives on until now. The locals in the Inakadate village uses rice paddies. They also plant different colors of plants to canvass enormous pictures. Their work has a high level of precision and artistic qualities. You can witness their art exhibition from the carriage of a train on the Akita Nairiku Juan Tetsudo Rail.
MOTOTAKI WATERFALL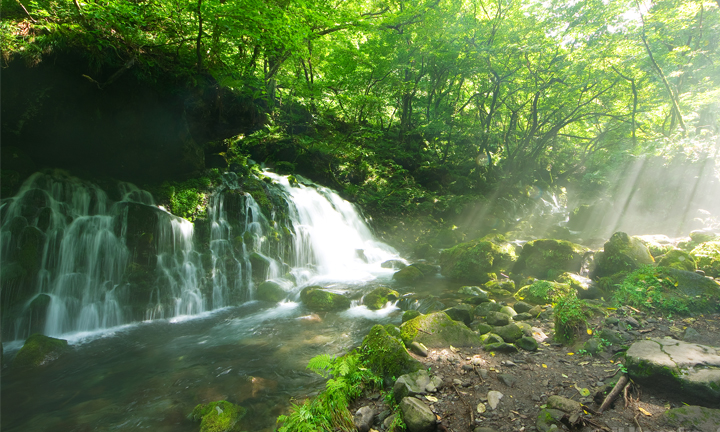 One of the loveliest waterfalls in Japan is the Mototaki Waterfalls. It is located in the thick and beech forest of Mt. Chokai of Akita. It is accessible all-year-round and many visitors pick this destination. Mainly because of its natural beauty. Additionally, you can witness the mysterious and alluring charm of the waterfalls from the moss-covered foothills.
AKITA DOG MUSEUM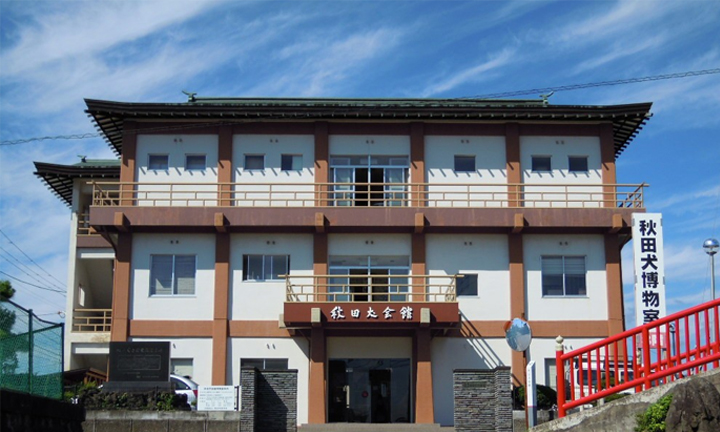 Akita Museum was founded in 1977. It is the only museum in the world dedicated to Japanese dogs. In the Akita museum, you can read more about the history of Akita dogs. Just outside, you can see the famous statue of Hachiko. Hachiko was a famous Akita dog renowned for its loyalty to his master.
SHITAMACHI BREWERY HIKOBE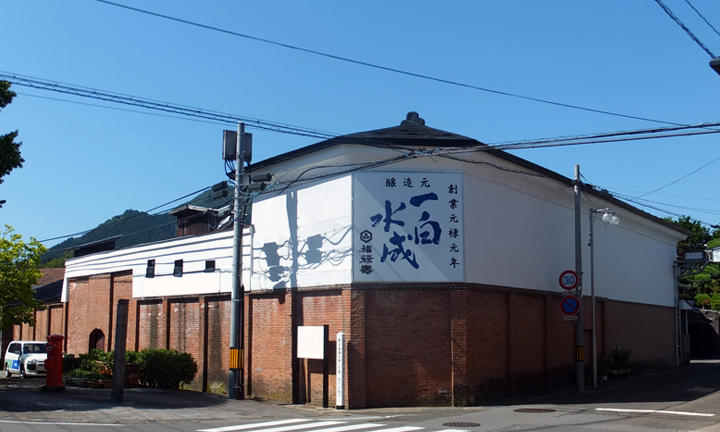 You should visit Hikobe whenever you are in Akita Prefecture. You can find a historic sake brewery that's recently been renovated. This is the Shitamachi Brewery. It includes a cafe and a tasting center. It's a unique space where locals and tourists come together over a shared appreciation for sake. Sake is one of the prefecture's most popular exports.
YAMAGATA
  Japan's top cherry producer is the Yamagata prefecture. Aside from that, it also boasts an array of hot springs, ski resorts, historical sites, and other worthy travel destinations.
NOTOYA RYOKAN IN GINZAN ONSEN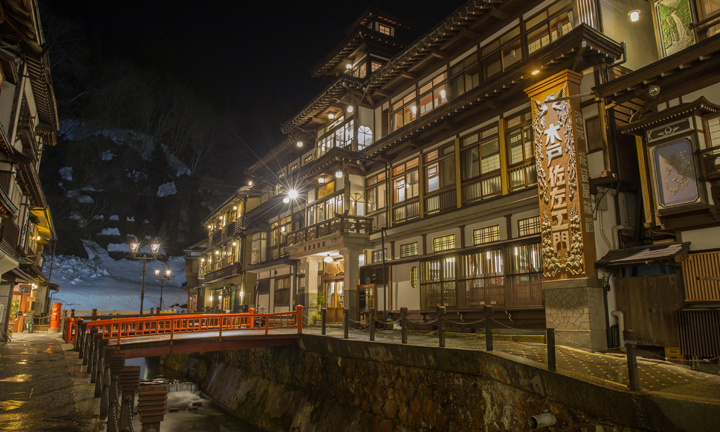 Notoya Ryokan is one of the best onsen towns in Japan. It is the real inspiration for the Japanese animated film "Spirited Away".
  But beyond these references, the Ginzan Onsen offers the best hot spring baths. Many of the town's ryokan open their baths to non-staying guests during daytime for typically 300 to 1500 yen. Most feature historic indoor baths.
KAMO AQUARIUM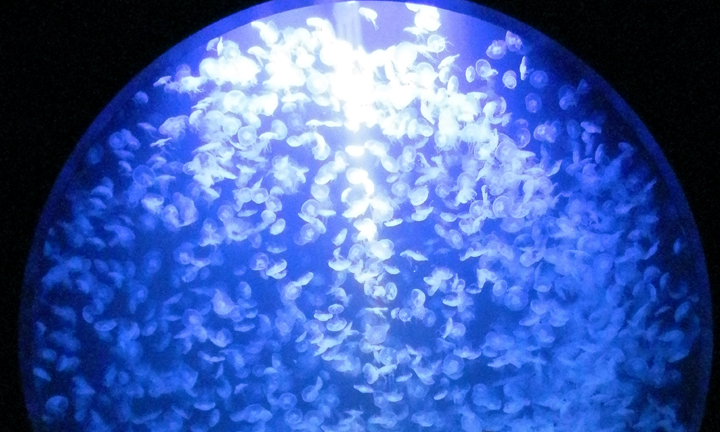 You might be fascinated with the bright blue orbs in the backlit display windows of the Kamo Aquarium. They have a "Kuranetarium" hat houses more than 35 species of jellyfish. In addition to that, there is an in-house restaurant that serves healthy food made from jellyfish such as jellyfish ramen and ice cream.
YAMADERA RISSHAKUJI TEMPLE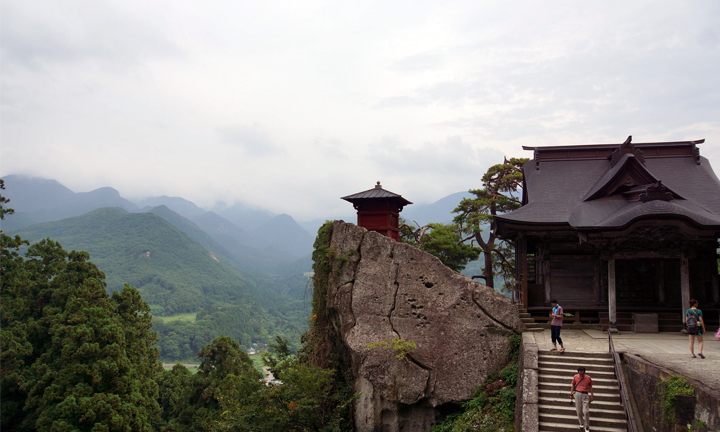 True to its name "Risshahaku-ji" which means mountain temple, you need to ascend the 1, 015-steps climb to get to the equally worthy summit of this iconic temple and have a magnificent view of the valley. You can experience a meditative experience before seeing the religious sculptures, lanterns, shrines, and more inside this temple.
THE HANAGASA FESTIVAL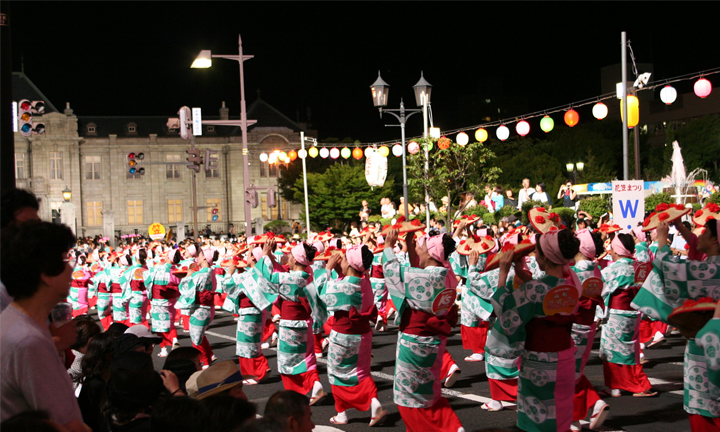 The Hanagasa festival ("flower umbrella") Festival is one of the major summer festivals of the Tohoku area. More than 10,000 dancers move to the festive rhythm of taiko drums. The dancers wear colorful costumes and heavily decorated floats.
FINAL THOUGHTS:
  From the famous theme parks in Tokyo to the busy streets of Shibuya, it surely gets overwhelming. But if you want a more serene, low-key travel and truly enjoy the places, you should give Tohoku a try.
  Also, don't forget to take stunning and memorable photos from your travels. Always remember that having professional photographers while on vacation is a true investment in its kind. Don't forget that the photographers of J-snap will always have your back.