2020/04/06
AMAZING PLACES TO VISIT IN JAPAN SERIES: KYUSHU REGION SPECIAL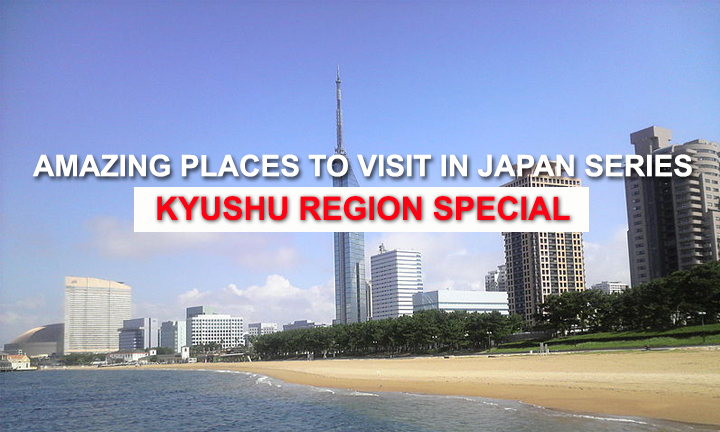 Japan has become one of our favorite countries to visit. It seems like every year, we get to fall in love with the plethora of amazing places to visit in Japan.
  But since Japan is bigger than it seems, we have to consider Japan based on its 8 regions (Hokkaido, Tohoku, Kanto, Chubu, Kansai, Chugoku, Shikoku, Kyushu-Okinawa.
  In this Amazing Places to Visit in Japan Series, we will explore the various regions of Japan and delve into what each region has to offer. In this article, let's discover the rich history and culture of Kyushu and explore some of the most amazing places to visit in Japan.
DISCOVER THE RICHEST HISTORY AND MODERN CULTURE OF KYUSHU REGION
  Kyushu region is the gateway to Japan since it's very close to other Asian countries. This region is perfect for travelers who want to discover more amazing places to visit in Japan without having to visit the populous cities.
  Kyushu takes pride in its natural beauty and lush green countryside. You can also experience stunning hike destinations as well as volcanic hot springs.
  Prefectures: Fukuoka, Saga, Nagasaki, Oita, Kumamoto, Miyazaki, Kagoshima Prefectures,
TOP TRAVEL DESTINATIONS IN KYUSHU REGION OF JAPAN
  Here are some of the best places to visit in Japan especially in the gateways of the Kyushu region.
 FUKUOKA
  Fukuoka is Kyushu's major transportation hub and has various land and air transport from Tokyo and Osaka, as well as Korea. This region is a cultural touchpoint. You can see buildings, parks, shops, shrines and many more.
UMINONAKAMICHI SEASIDE PARK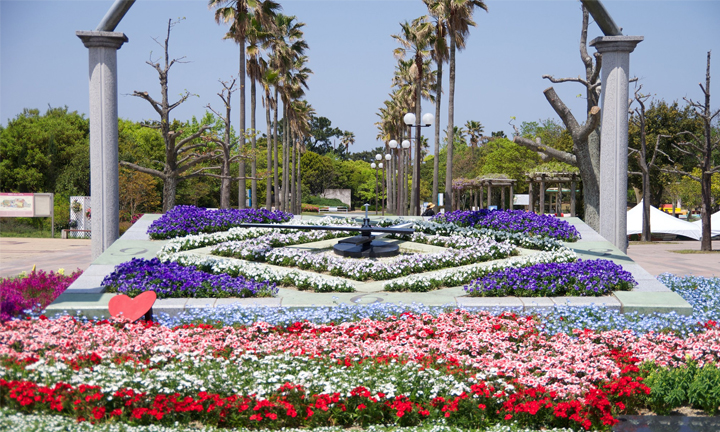 You can easily include a visit to Uminonakamichi Seaside Park on your day trip and is perfect for kids and families. It is a huge family park with many amenities like flower gardens, playgrounds, an amusement park with a ferris wheel, sports fields, a water park, a zoo and large open spaces and lawns perfect for picnicking.
  The best season to visit here is during the spring season. During this time, you can see tulips, sakura trees, canola flowers, baby blue eyes narcissus, nemophila, roses, hydrangeas, and sunflowers among others littering the park.
CANAL CITY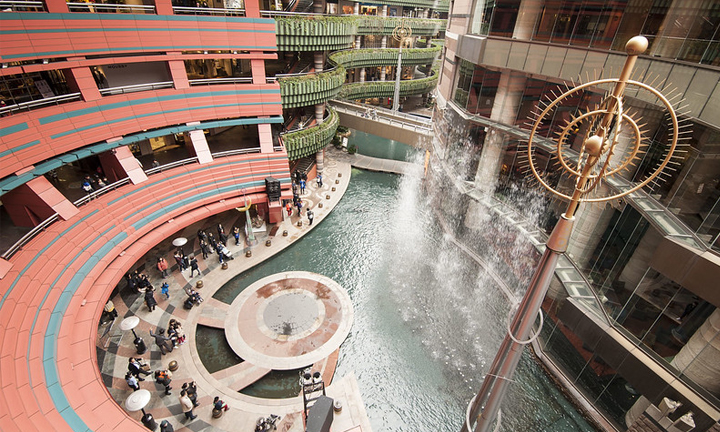 This massive shopping mall and entertainment complex is a must-visit place in Fukuoka. Inside here, you can find over 250 shops, cafes and restaurants, a theater, a game center, cinemas, two hotels and a canal running through the complex.
  Aside from shopping, you'll get only its dancing fountain show every 6 PM after trying their famous ramen on the 5th floor.
YATAI FOOD STALLS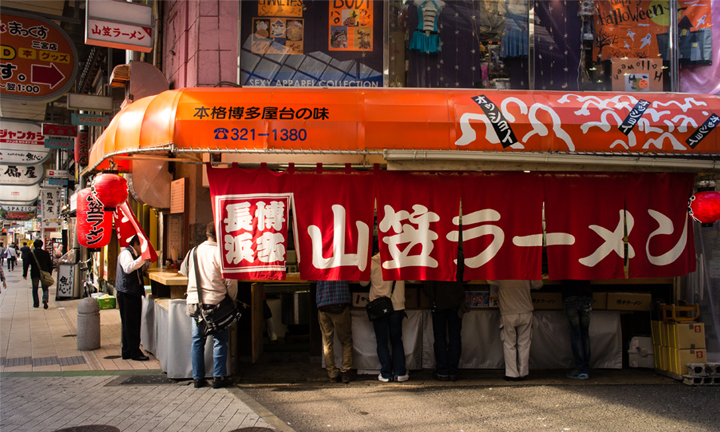 End your night right by visiting Yatai food stalls especially the best ones at the southern end of Nakasu. Certainly, this is one of the most amazing places to visit in Japan. Some of the recommended food to try here are the following:
Hakata ramen (known for its milky, pork bone marrow broth) Yakitori (grilled chicken skewers) Ode (hot pot) and Various alcoholic drinks
  Yatai food stalls are usually open from around 6 pm to around 2 am similar to all the other dozens of yatai scattered across Fukuoka like in Tenjin and Nagahama area.
SHOFUKUJI TEMPLE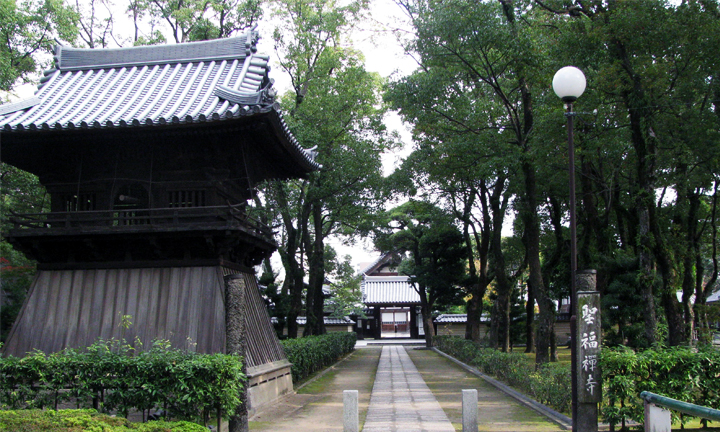 The first-ever Zen temple in Japan is the Shofukuji temple. Eisai, a priest, founded this temple. He also introduced Zen Buddhism and tea to Japan in the 12th century. The buildings in the temple give off impressions of ancient Chinese influences as well as the Zen monastery on site.
  For more detailed travel tips to Fukuoka, check this link.
 SAGA
  This prefecture is very close to the Korean peninsula. It takes pride in its world-renowned ancient ceramics and porcelain as well as an array of beautiful onsens.
YUTOKU INARI SHRINE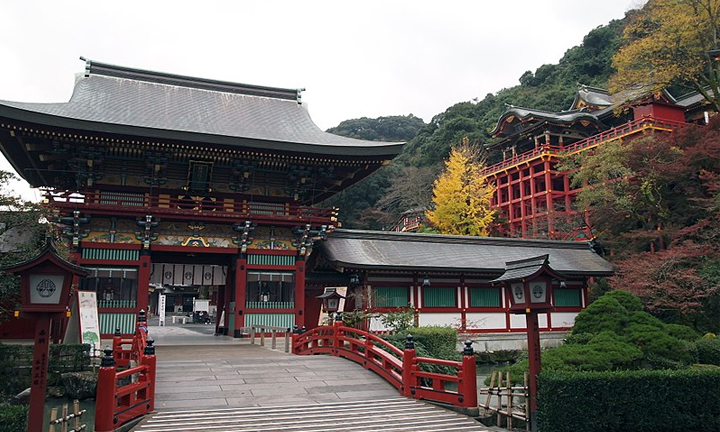 Yutoku Inari Shrine of Saga is one of the most famous Inari shrines in Japan. This shrine is dedicated to Inari, the deity associated with good business and fortune. From the main hall's entrance, you can see a walking trail into the wooded hill of the shrine. You can identify each section because of the tori gates. At the top, you'll get to see a beautiful view of the Kashima City and Ariake Sea.
SAGA INTERNATIONAL BALLOON FIESTA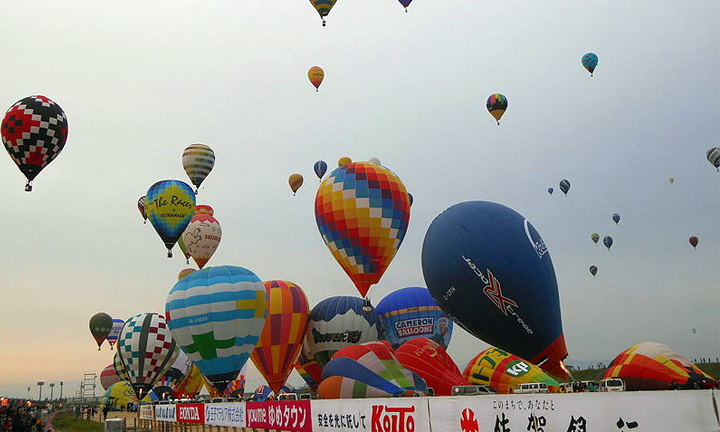 You wanna visit Saga around November so you wouldn't miss the internationally popular Saga Balloon Fiesta. The event takes place along the Kasegawa River. This is where you can view the spectacular hot air balloons of various competitors.
  If you miss the Balloon Fiesta, you can always go to Saga Balloon Museum where you can have a glimpse of the festival's atmosphere. They have a flight simulator that will make you experience what it's like to ride an actual hot air balloon.
ARITA PORCELAIN PARK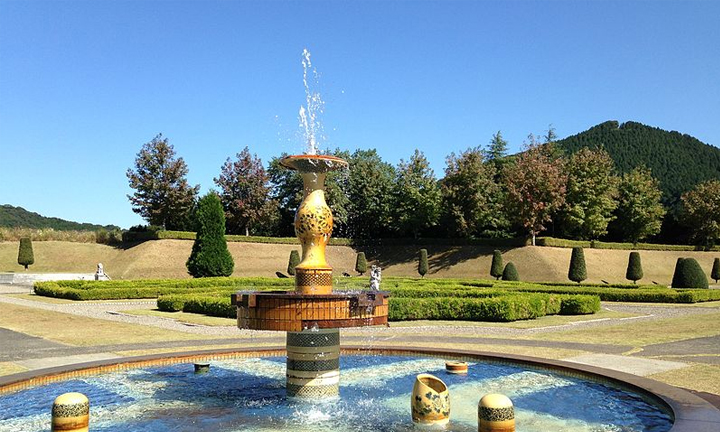 Inside the Arita Porcelain Park, you can marvel at the traditional Saga handicraft, Arita ware, and even purchase them. To have a very memorable experience, you can make your own ceramic in their studio. In addition to that, there is a sake brewery located next to this facility.
YOSHINOGARI HISTORICAL PARK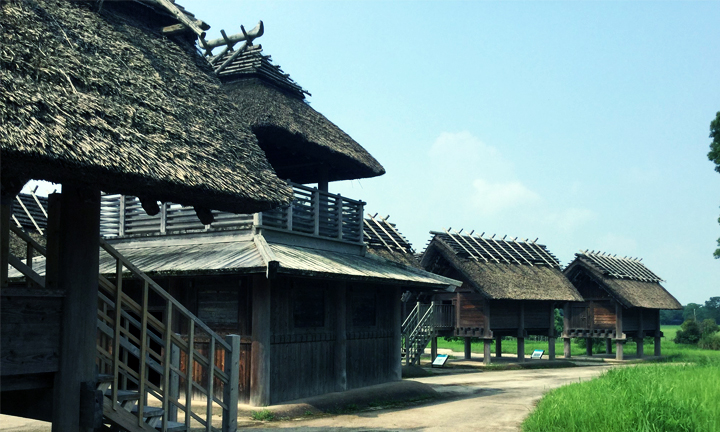 Yoshinogari Historical Park is a unique and worthy-to-visit historical village in Saga prefecture. The pit dwellings, elevated storehouses, and tombs here are from 300 BC to 300 AD. Truly a delight for archeology fans.
  Aside from that, the large park offers wide spaces for picnics and sports like disc golf and miniature golf courses.
 NAGASAKI
  This region sits on a large natural harbor and has an active marine industry as well as few military bases.
NAGASAKI PEACE PARK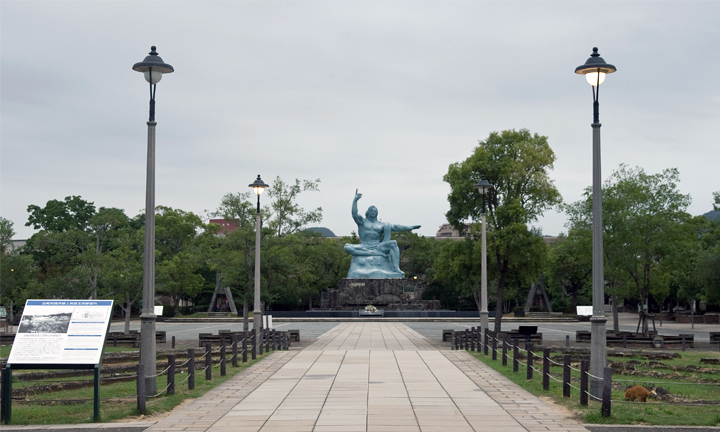 For sure, many visitors make this as their top destination when visiting Nagasaki, and we couldn't agree more. You can revisit history about WWII and atomic bombs in Nagasaki Peace Park, as well as the Atomic Bomb Museum. At the center of the park, you can see the Hypocenter Park that marks the explosion's epicenter. Also, you can never miss the iconic Peace Statue along with a large foundation and memorials that commemorate the victims of the bombing.
GUNKANJIMA (BATTLESHIP ISLAND)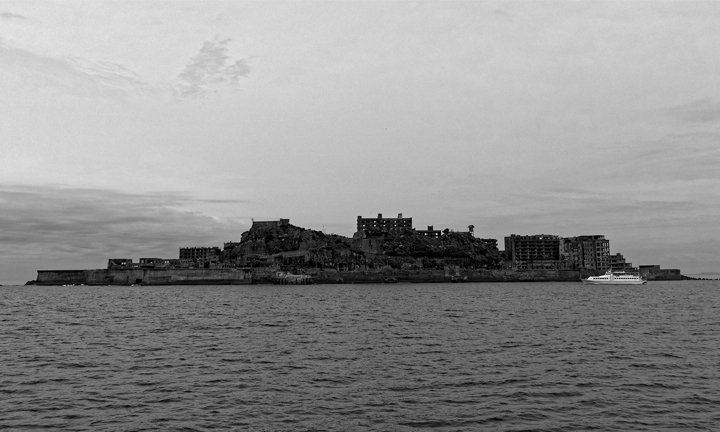 Gunkanjima is an abandoned island off Nagasaki's coast. It is shaped like a battleship. Thus the nickname. When you visit this island, you can definitely feel an eerie and curious feeling. But due to the danger of collapsing structures, the authorities closed the island to the public. You can only view this island from sightseeing cruises that circle the island.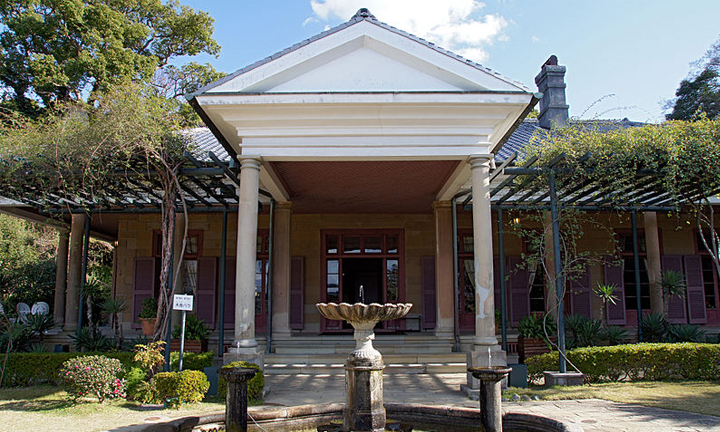 Glover Garden is actually an open-air museum located on a hill that exhibits western-style houses of former residents. The oldest there is the Glover Residence, the former house of Scottish merchant Thomas Glover who had prominent contributions in the early history of Japan's industrializations.
  You can also visit the Glover Garden Tea House and enjoy a cup of tea and a slice of Nagasaki's signature food, Castella cake.
MOUNT INASA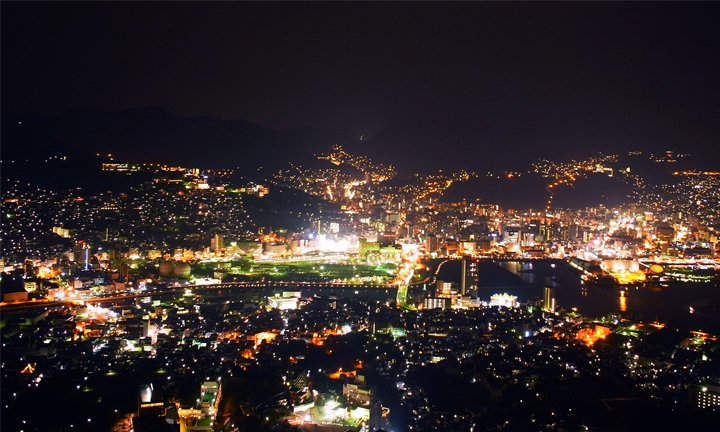 Standing 333 meters high close to Nagasaki's center is the Mount Inasayama (Inasa). Upon reaching the observatory deck, you'll see a 360 degrees view of Nagasaki city and harbor. It is best to stay until night time here because of its spectacular night view. You can also explore the restaurant on the summit of Mt. Inasa.
 OITA
  Oita is known for the presence of many hot springs. It attracts many overseas tourists, especially from neighboring countries such as Korea and China.
YABAKEI GORGE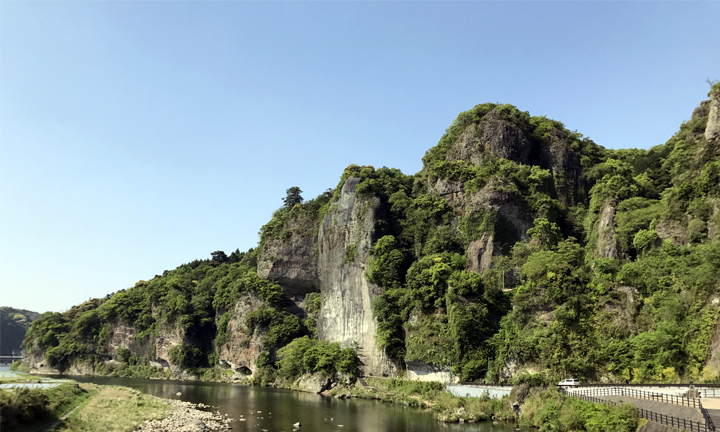 In here, you can see amazing and natural sceneries like cliffs, caves, and magnificent rock formations. It is a great destination, especially in the autumn season. The Yabakei Gorge is truly an amazing place to visit in Japan.
  You can find the Yabakei Bridge at the entrance that stretches across the Yamakuni river. There is also the Blue Tunnel a few kilometers ahead. Lastly, the Rakan-ji temple that gives a panoramic view of the Yabakei Gorge.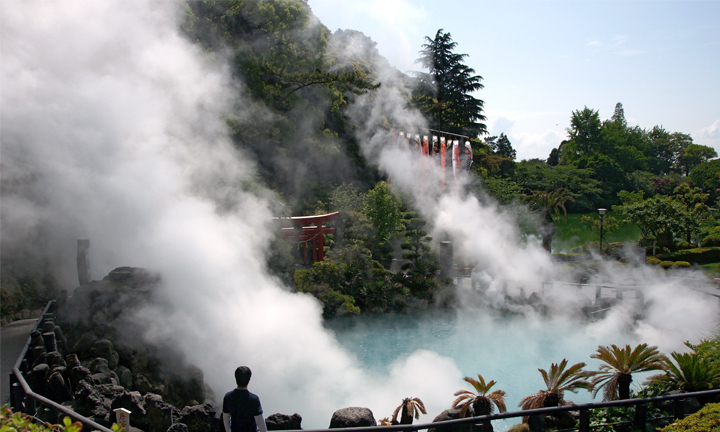 Beppu Onsen is another popular hot spring resort in Japan that can be found in the Oita region. It has a total of eight different onsens that features public baths and ryokan with bathing facilities. A sand bath is a very unique experience in Beppu onsen. During sand baths, you'll have to bury yourself in naturally heated sand, steam baths, or mud baths.
YUFUIN FLORAL VILLAGE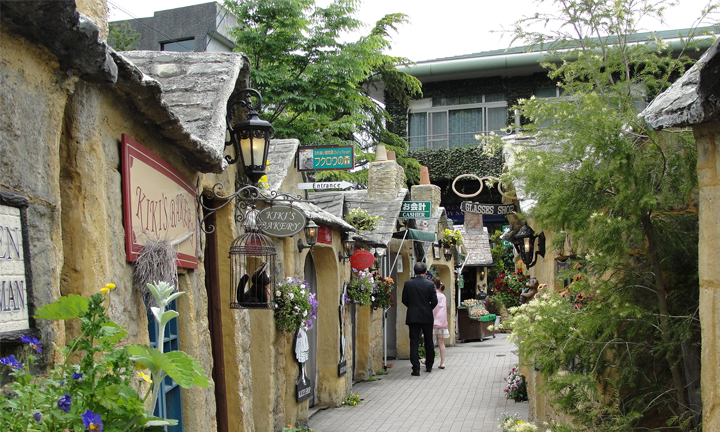 A visually appealing and entertaining travel destination in Oita is the Yufuin Floral Village that takes inspiration from England and some Harry Potter scenes. Certainly, this is one of the amazing places to visit in Japan. This village houses a series of small houses and stores. You can see flowers, bushes, even lamps decorated on the door. It even has several owl and cat cafes, a true Potterhead's delight. Check out more photos here.
 KUMAMOTO
  Kumamoto is the central area of the Kyushu region. Awe-inspiring mountains surrounded this region. You can really enjoy some quiet time here.
KUMAMOTO CASTLE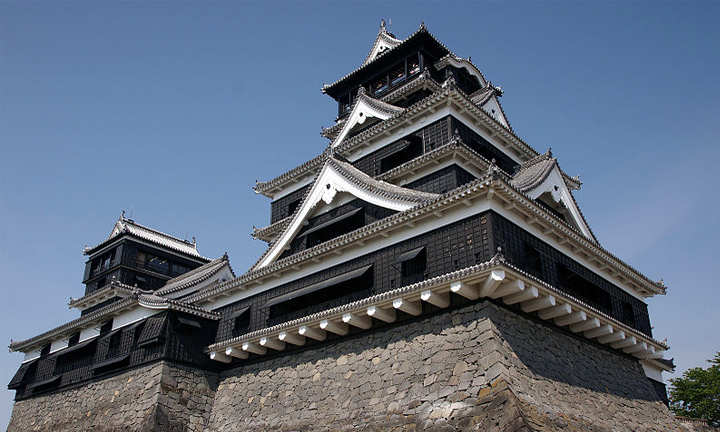 Kumamoto castle is one of those castles in Japan that can take you to a complete castle experience. Unfortunately, the inside of the castle incurred damages after the recent earthquakes. It is currently undergoing reconstruction. Nevertheless, you can have a close-up view of the castle and marvel at the different cherry blossom trees around the area.
SUIZENJI-JOJUEN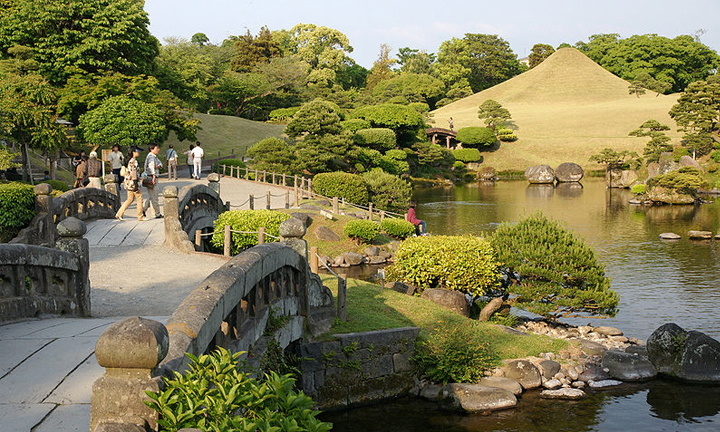 Suizenji-jojuen is basically a large Japanese garden. It has a picturesque lake that was built in the 17th century. The main path represents the 53 stations of the Tokaido, the road that links Tokyo and Kyoto during the Edo period. You can even see a miniature Mt. Fuji in the garden. Best to visit here on afternoons for a well-lit view of the garden.
KUMAMOTO PREFECTURAL TRADITIONAL CRAFTS CENTER
  This is perfect if you want to find various craft pieces such as ceramics, glassware and wood carvings for souvenirs. The arts and goods that you can find here have a strong reflection of Kumamoto history. Aside from that, you can also find Yamaga lanterns and famous Higo Zogan gold inlay metalcrafts here.
 MIYAZAKI
  Miyazaki prefecture has a warmer climate than the rest of Japan that is perfect for resorts, beaches, and other sports facilities.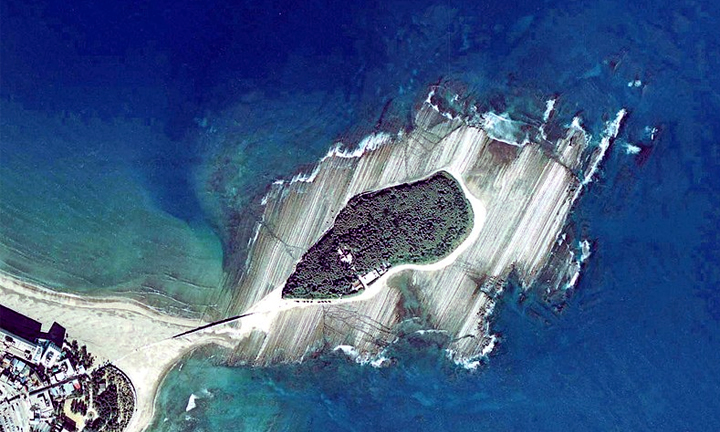 Aoshima Island in Miyazaki is often confused with the similarly named cat island in Ehime Prefecture. This island in Miyazaki houses more than 5, 000 trees and over 200 subtropical plants that covers the whole area. You can find a shrine at the center of the island. Married couples who wish for good luck go to this shrine. The rock formations called "Demons Washboard" are the most prominent feature of this island.
TAKACHIHO GORGE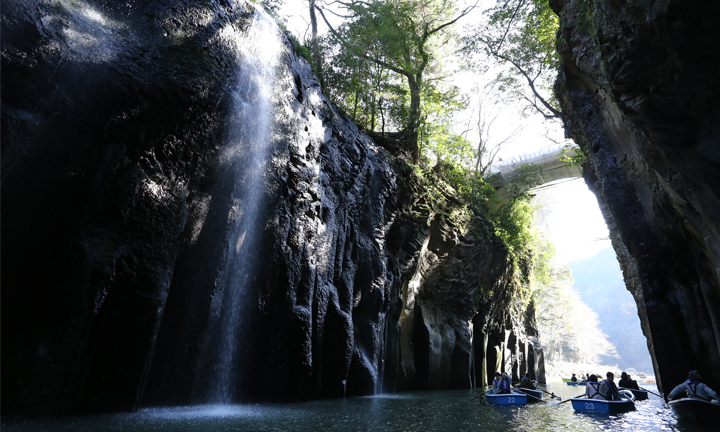 In the remote, mountainous town of Takachiho, you can experience cruising through a volcanic canyon in a rowboat. You'll also witness mesmerizing waterfalls around you. The cliffs in the Takachiho gorge are a product of volcanic basalt columns. Another way to enjoy the view is to walk the paved path that runs along the edge of the gorge where you'll end up to the Takachiho Shrine.
UDO-JINGU SHRINE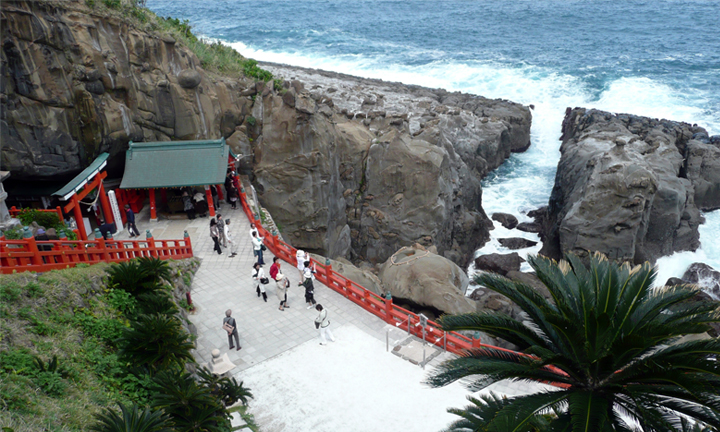 The Udo-Jingu Shrine is a uniquely-located shrine on the Nichinan coast of Miyazaki. This is because this shrine is perched atop a cliff that overlooks a mesmerizing ocean view. There is also a hidden cave below the main shrine. People that visit here often drink water from the drips of the rocks in the cave for good fortune especially for couples wishing to have a child.
  Miyazaki prefecture has a warmer climate than the rest of Japan that is perfect for resorts, beaches, and other sports facilities.
 KAGOSHIMA
KAGOSHIMA CITY AQUARIUM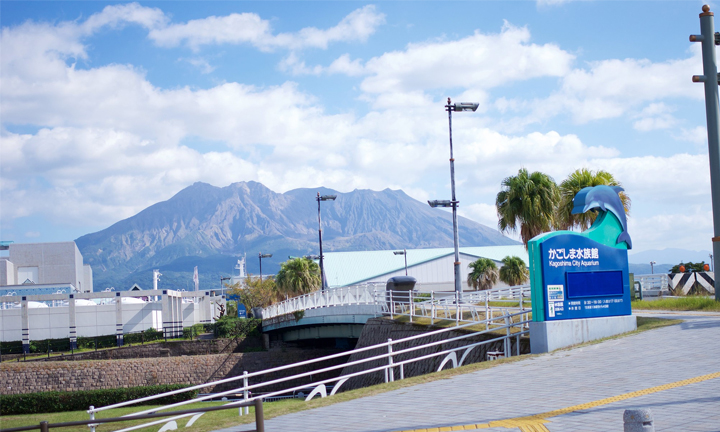 This aquarium has a unique architecture and is located just by the Sakurajima Ferry Terminal. The Kagoshima City Aquarium showcases this diverse collection of marine life using exhibits organized according to the theme. You can also experience a number of hands-on learning experiences here.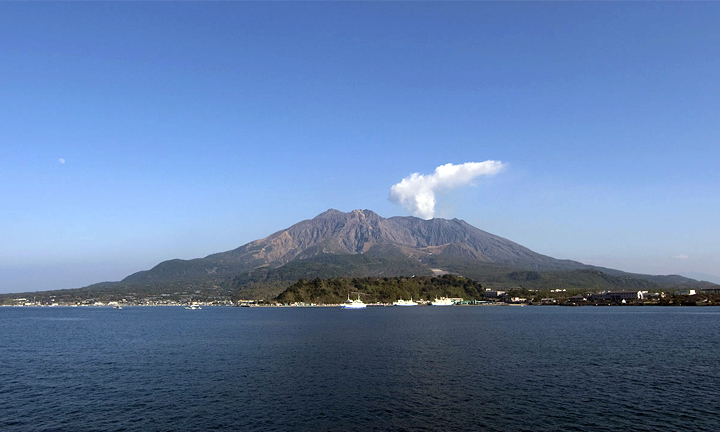 Sakurajima is a symbol of Kagoshima. It is a volcanic island located in southern Kyushu. You can enjoy the view of Mt. Sakurajima through Sakurajima Ferry. During summer, they offer a summer night cruise and enjoy a fantastic view as well as an amazing fireworks display.
Final Thoughts
  As you should know by now, Kyushu is a wonderful haven where you can have amazing places to visit in Japan. The Kyushu region actually includes Okinawa. But this article mostly focused on the larger Kyushu. You can read more about the amazing places to visit in Japan, especially the Okinawa region, in our next article.
  Here in J-snap, we value your travel. We want you to get ahead and get a glimpse of your dream travel destinations. And when it comes to taking perfect pictures, don't forget that the photographers of J-snap will always have your back.