2020/04/20
Amazing Places to Visit in Japan Series: Okinawa Special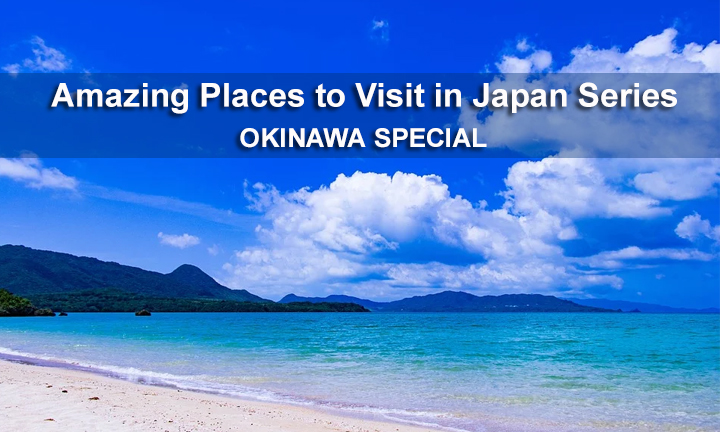 Japan is not just about cherry blossoms, instagrammable places, and amazing dishes. It is also well known for its turquoise blue water beaches and exciting summer vacation destinations. One of its most famous prefectures to enjoy the heat in summer is Okinawa, Japan.
  It is located in the southern part of Japan which consists of 160 islands including 49 inhabited ones.
  Millions of tourists visit each year to enjoy its warm subtropical climate which attracts divers and beach lovers not just in Japan but all over the world.
  Aside from its amazing sceneries, its local foods and traditional culture are also a must try. The next destination for our Amazing Places to Visit in Japan Series is this beautiful region of Okinawa.
  If you are planning to visit Okinawa but have no idea how to go and where to go there, here's a traveler's guide and a list of the must-visit places in this gorgeous prefecture.
How to go in Okinawa
  Going by plane is the easiest way to reach Okinawa from more than 20 cities all over Japan through Naha Airport.
  The fare for domestic flights ranges between 35,000-40,000 yen and for international flights, it ranges from 40,000-50,000 yen.
  However, if you like long travels while meeting a lot of people, you can go to Okinawa by boat. The travel time will be 16-19 hours and the fare ranges between 15,600 yen to 29,300 yen.
Top destinations in Okinawa Prefecture
  Here are the must visit places in Okinawa that you should not miss.
Taketomi Island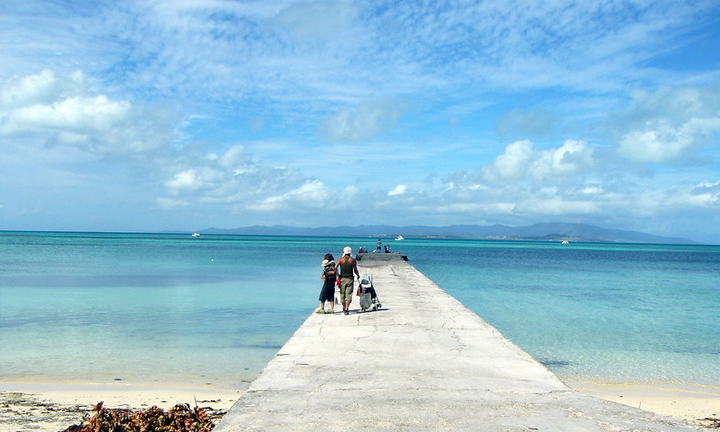 Taketomi Island is a UNESCO World Heritage Site and a Japanese Living Treasure which houses and preserves Japanese slow-paced life. You can find old style houses with tiled roofs and traditional bungalows built with stone walls. This island is very refreshing as you can just travel it by foot, by riding a bicycle, or by riding an old style buffalo cart.
  Its beaches are also unspoiled so that you can swim in every beach that you can pass by. You cannot leave Taketomi Island without eating their local foods and staying in minshuku or the Japanese-style bed and breakfast. Your travel on this island will surely fill your soul and leave you a lot of memories to treasure.
Churaumi Aquarium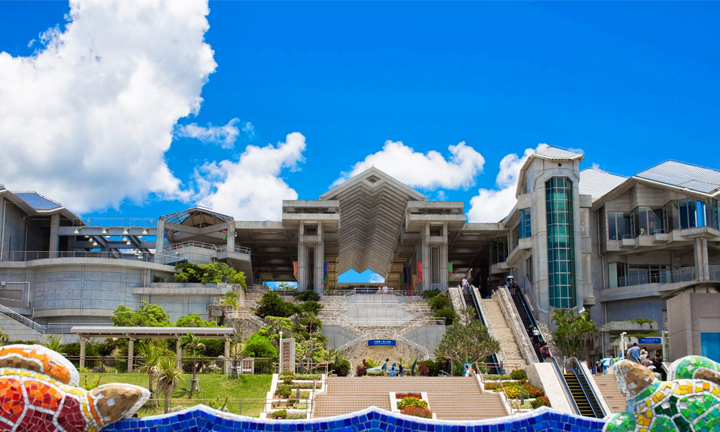 Okinawa houses one of Japan's best aquariums and also one of the biggest in the world. You can see the rich marine life in Okinawa through Churaumi Aquarium. As you explore the massive aquarium, you will pass by the Kuroshio Tank. It contains large whale sharks, manta rays, and other sea animals that you do not usually see in water parks.
  There is also another tank exclusive for bioluminescent fishes which gives life to the aquarium. You can also enjoy the shows that feature dolphins, manatees, and turtles.
Okinawa World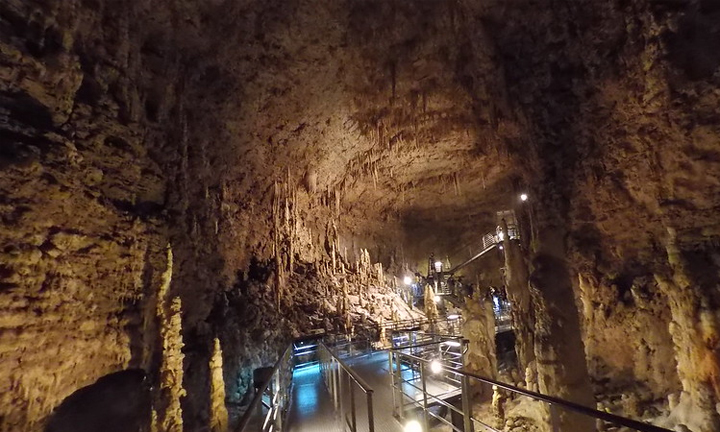 If you are up for an adventure, Okinawa World is the perfect spot for you. It is a theme park located in Okinawa Konto which also encompasses the Gyokusendo Cave. You can see stunning stalagmites and stalactites in this 900 meters chamber.
  Outside the cave, you can see a snake exhibition where they show how the snake turned into a liquor. If you are not comfortable seeing one, you can skip this part and just proceed to the souvenir stalls outside the cave.
Cape Manza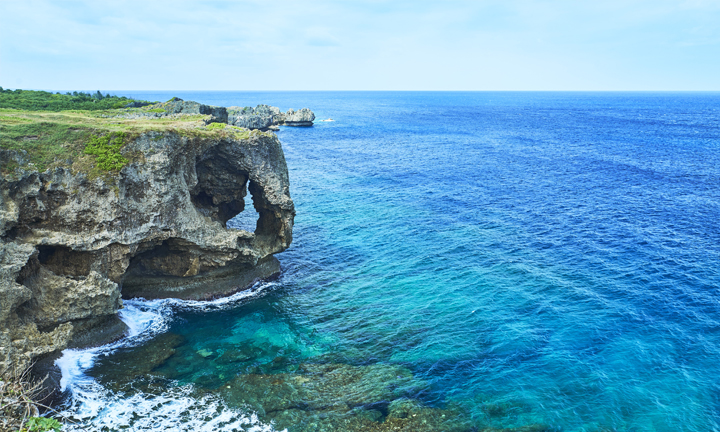 Cape Manza or also known as Manzano is the best spot you can visit to watch the sunset. It is located in Onna Village on the northern part of Okinawa Main Island. This 20 meter cliff formed by beautiful rock formation is facing the East China Sea and offers a dramatic view. You will definitely enjoy a peaceful and beautiful time here.
Kume Island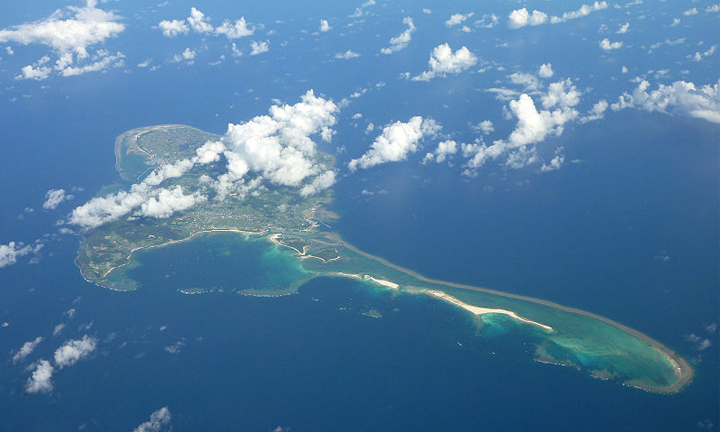 Kume Island or also known as Kumejima is said to be one of the most beautiful islands in Okinawa due to its breathtaking scenery and beautiful beaches. If you want to visit an unspoiled spot in Okinawa, this is the place to be. It is the best place for a relaxing swim while enjoying a mesmerizing view around you.
  The top attraction of Kume Island is the Hatenohama Beach which expands to 7 kilometers long forming a very long sand bar. This island can only be accessed through boat so you have to make sure to check the availability of the trips if you wish to visit the island.
Taa Taki Falls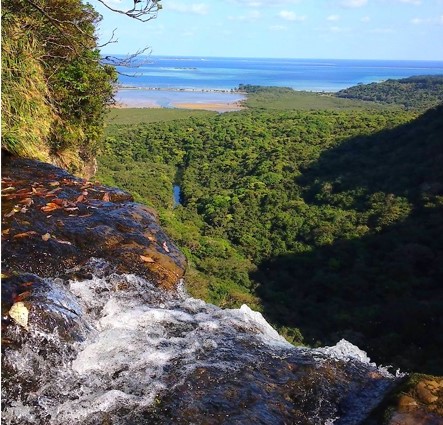 Okinawa does not only have mesmerizing beaches and islands but it also has astonishing falls within the island. It is just the perfect place for those who are up for adventure. You can channel your inner Tarzan as you go deep into the Northern Okinawa jungle to see the Taa Taki Falls.
  Be ready to unleash your adventurous spirit as you will experience river trekking, hiking, water sliding, jungle swinging, and rope climbing on your journey to the falls. It may sound tiring but it is definitely fulfilling and a must try in Okinawa. You will be surprised on how you can push through your limits all throughout the journey.
Yonaguni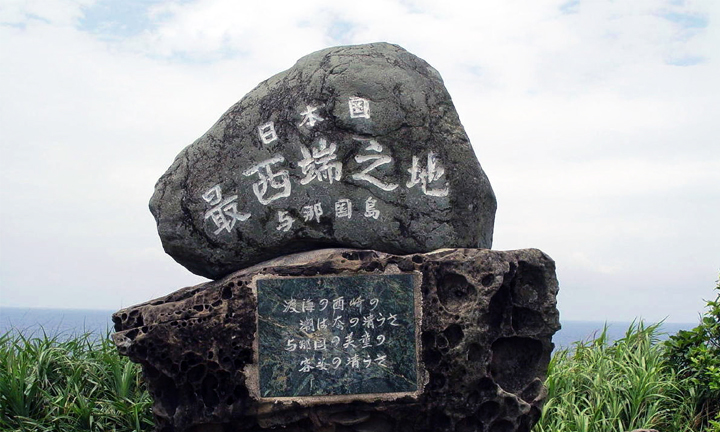 If you want more than just beach swimming, then head on to Yonaguni and go diving. This island is well known for its underwater ruins. Most of the ruins are made of solid rock and are said to be 8,000 years old. Legends in the area also believed that some of the ruins are a part of the lost continent called Mu because underneath, you can find ruins that look like staircases as well as rooms and walls.
  However, the waves around the ruins are somehow strong. Which is why divers only recommend this activity for intermediate and experienced divers. Safety is always the priority when traveling so make sure to follow rules and regulations set by the locals.
Mihama American Village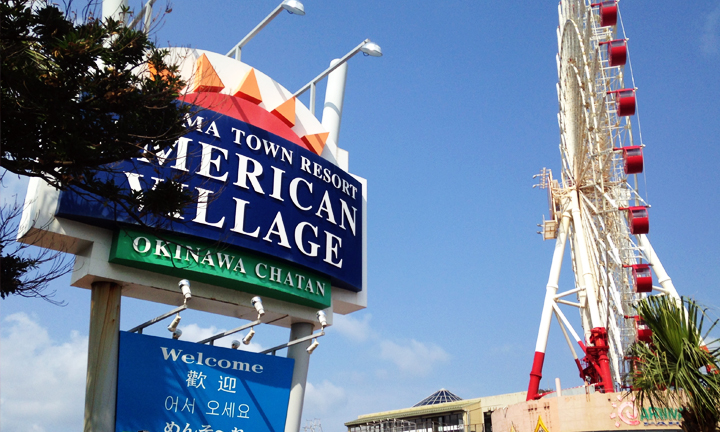 This is the best place to visit for those who want a mix of Asian and Western culture in one place. The village is full of different shops for different ages. You can see anime good stores, vintage boutiques, restaurants, cafes, amusement park, a movie theater, and even a beach.
  After a fun-filled day in the village, head to the Sunset Beach and witness a painting-like view of the sky during sunset. Its name really speaks of its beauty. You can find the beach just behind the village.
Okinawa Cherry Blossom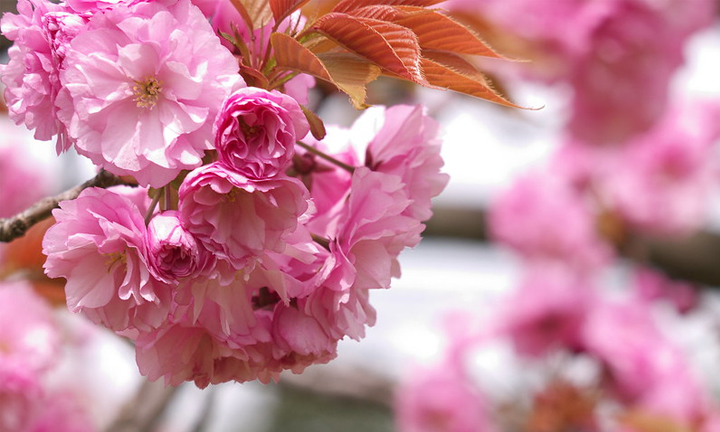 Okinawa's geographical location makes it one of the best regions in Japan to see cherry blossoms. The region celebrates the Sakura Festival way ahead of the rest of the places in mainland Japan. They usually celebrate the festival in January each year.
  The cherry blossoms in Okinawa also look different than that in mainland Japan. Compared to a pale pink 'Somei Yoshino', the blossoms that fill the streets and alleys of Okinawa are mesmerizing. It has this bright pink color that is of the 'Yaezakura' variety.
  Visiting Okinawa is truly an enchanting experience a traveler should experience. See for yourself the region's beautiful beaches, jaw-dropping islands, adventure trails, and mesmerizing cherry blossoms. Not to mention its vast variety of street and local foods that you should also try. Surely, your summer vacation will be filled with good memories and amazing sceneries. Book your flights now and experience first hand the beauty that Okinawa offers.